Smart Tuition Sponsors Catholic Collegial Conversation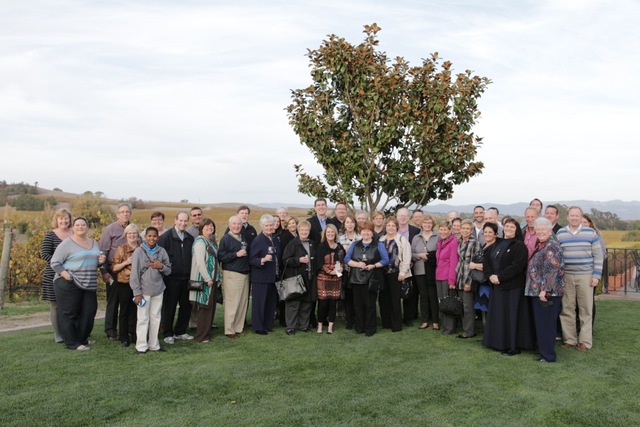 Smart Tuition Sponsors 5Th Annual Catholic Collegial Conversation Conference
Woodbridge, New Jersey - December 2, 2014 - Smart Tuition, the country's largest independently-owned tuition management company, hosted the 5th Annual Collegial Conversation in Napa Valley, California in late November. The four day event was attended by 28 leaders from Catholic School Offices across the country. Smart Tuition, the sponsor, supports the annual Collegial Conversation to provide a venue for focused dialogue about Catholic education with leaders of Catholic school systems.
Catherine Blades, Senior Vice President at Smart Tuition explains, "Smart Tuition is privileged to be a partner with dioceses across the country in support of the mission of Catholic Education. As a former Catholic educator and diocesan administrator, I know the tremendous blessings and challenges of leading a school community. Smart's Collegial Conversation is one way in which we seek to directly support Catholic Education and affirm best practices."
The theme of the Collegial Conversations 2014: Exploring the Elements of Effective Leadership, allowed facilitators from School Growth to provide two and one-half days of professional development, dialogue and action planning for the Catholic school system leaders. School Growth specializes in programs for sustainable, replicable, and scalable growth. Smart Tuition invests in schools to create innovative transformation. The Collegial Conversation for Catholic School Superintendents provides a unique opportunity to reflectively consider the ecosystem of each community to create greater impact in each school community.
"From the first time, and every time, since I have attended the Collegial Conversation, I have felt the presence of the Holy Spirit guiding the event." Kathy O'Hara, Archdiocese of Kansas City Superintendent.
Bill Crist, Superintendent, Diocese of Syracuse commented, "Thanks again for a wonderful opportunity for conversations amongst superintendents from throughout our country of Catholic schools. Smart has taken a lead in providing this venue and you should all be commended. Looking forward to debriefing with my new friends and colleagues thanks to your networking."
Matt Knapp, President and CEO of Smart Tuition noted that Smart's investment in this endeavor to support Catholic Education was worthwhile and especially rewarding. "Our ability to partner with outstanding facilitators like School Growth and to allow a great opportunity for collegial networking at this conference shows our commitment to Catholic schools and educational leadership."
Founded in 1989, Smart Tuition is a leader in providing a robust student billing and payments processing platform through its SaaS offerings. The company was ranked the 18th fastest growing company in the education sector in Inc. Magazine's 500/500 fastest growing companies issue. Smart Tuition supports the educational mission of Catholic, faith based, and independent private schools across the United States.
For more information about Smart Tuition, please visit our website at:
http://www.smarttuition.com
or contact Marla Leung at
mleung@smarttuition.com
SMART TUITION
Financial Solutions for Schools and Parents
10 Woodbridge Center Drive, Suite 200
Woodbridge, NJ 07095
(866) 395-2986
www.smarttuition.com
For more information contact:
Marla Leung, Director of Communications
Smart Tuition
(941) 302-4304
mleung@smarttuition.com