G6 Sports Uncovers the Most Effective Ways to Burn Fat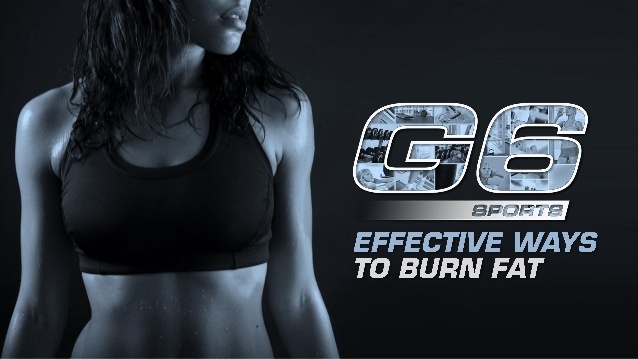 December 2, 2014 - Most Americans would agree that they could benefit from a bit more exercise and a little less fat throughout their body. Ridding your body of any excess fat is actually a lot easier than most people think. Let the team at G6 Sports help kick start your weight loss efforts with their latest slideshow, " Effective Ways to Burn Fat."
The most important thing to remember if you are trying to lose weight is to stay focused, and not let the number on the scale intimidate you. A scale should be used as nothing more than a guide, while your primary focus should be on how you look and feel.
Another important thing to remember is that no one is able to achieve instant results. Hard work and persistence is the most effective way to help you lose weight. Rather than all at once, carefully decrease your calorie intake over time to help maximize the rate that your body burns through fat. Additionally, changing the amount of calories you put in your body on a daily basis can help keep your metabolism up.
When planning your weekly meal plan, make sure to include plenty of good fats and proteins while reducing your carb intake. There are a variety of sports nutrition supplements that you can take to help you keep to clean eating habits, including regular use of a whey protein isolate or a meal replacement supplement. Another approach is to spread out your meals to six smaller sized meals throughout the day. This ensures that your body is getting the proper nutrients it needs to keep going throughout the day.
Regardless of what your end goal may be, weight training should be a primary component of your workout routine. Including weight training into your routine will ensure that the weight loss you achieve is from excess
fat and not from muscle.
Make your gym efforts even more effective with High-Intensity Intervals (HIIT). Performing at a high level of intensity followed by a brief resting period can help speed up and provide more effective results. No matter how you work out, make sure you use supplements that can help with pre-workout energy and post-workout recovery.
If you are looking to rid your body of any excess fat and pounds, make sure you check out the slideshow from G6 Sports by visiting
http://www.g6sportsnutrition.com/effective-ways-burn-fat-slide-show/
.
Proper nutrition is key to the success of your weight loss efforts. Make sure your body is getting the right amount of nutrients it needs with help from the power-packed fat burning supplements by G6 Sports. For more information on the cutting edge product line from G6 Sports, visit
www.g6sportsnutrition.com
.