BumperDoc Auto Body and Auto Appearance Shop Opens in Tempe, Arizona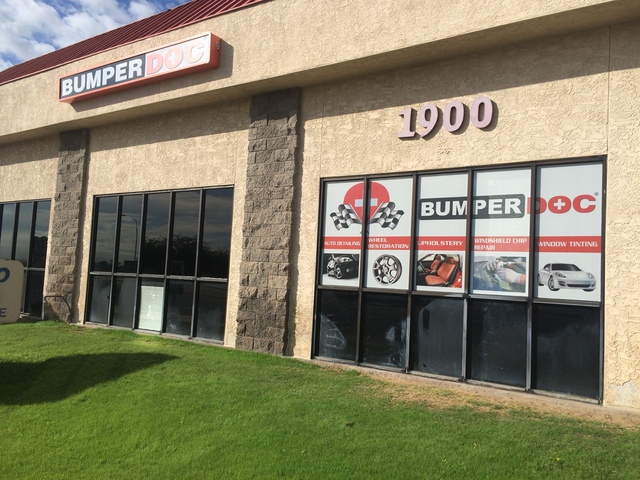 December 3, 2014 - TEMPE, AZ – BumperDoc of Tempe, the one-stop shop for Tempe auto body repair and auto appearance needs, is now open. Brian and Crystal, the shop owners, are happy to announce their Grand Opening in December of 2014 in a new state of the art facility, conveniently located in the Tempe / Scottsdale area at 1900 N. McClintock Dr., near the intersection of N. McClintock Dr. and E. McKellips Rd.
BumperDoc is a full service collision repair shop with a great reputation among insurance companies and customers alike. Specializing in rapid repairs with quick turnaround time, BumperDoc provides customers with an alternative to the traditional auto body shop. Each shop offers many high quality services under one roof, including bumper repair, dent and door ding removal, window tinting, cloudy headlight restoration, auto detailing and more. The shop's website,
www.BumperDocTempe.com
, has an easy to use feature that allows customers to upload pictures of their car and request an estimate.
When asked for a word to describe their philosophy about treating customers and running a business, Brian, a U.S. military veteran, said: "Integrity – the number one word that says everything about you. Honesty, trustworthiness, dedication, respect – integrity is all of these traits wrapped into one word, and I live by that." Crystal added, "Showing people that you care and treating them with respect is what is important."
BumperDoc uses both traditional and state of the art methods to repair damage and to enhance a car's appearance. Also known as a company that cares about the environment, BumperDoc can often repair bumpers, headlights, and other parts instead of replacing them, making them look like new again, with satisfaction guaranteed. Repairing and reconditioning damaged parts, instead of replacing them, saves precious natural resources, easing the burden on our shrinking landfills – and it saves the customer both time and money.
Partnered with Akzo Nobel, the world's largest paint manufacturer, BumperDoc uses only the highest quality, environmentally friendly paint and coatings. Known for it's excellent finish and color matching, and backed by manufacturer's warranty, customers can expect quality results when having their car or truck repaired at BumperDoc.
Other world class partners, like LKQ / Keystone, Solar Gard (Window Tint), 3M, Meguiar's (Auto Detailing) and more, work together with BumperDoc to provide the highest possible quality and service for every customer.
BumperDoc provides free estimates both online and onsite, comfortable lobbies, and attentive service to make the customer experience as pleasant as possible.
BumperDoc is the premier up and coming automotive franchise for everybody's automobile appearance needs. Whether it be same-day bumper repair, window tinting, wheel repair, fixing a dent or ding, interior repair, auto detailing, applying paint protection film, or restoring cloudy headlights to their original brightness, BumperDoc handles it all with great prices. To reach the BumperDoc shop in Tempe, please call (480) 664-3882.
BumperDoc is offering franchise opportunities nationwide. For more information, please contact Larry Miller at 858 583-4159 or Ray Wahoff at 858 999-1414, or visit
www.BumperDocFranchises.com
. Additional information about BumperDoc may be found at
www.BumperDoc.com
.