Concordia Lutheran Ministries Releases Their Set of Tips to Help You Choose the Right Nursing Home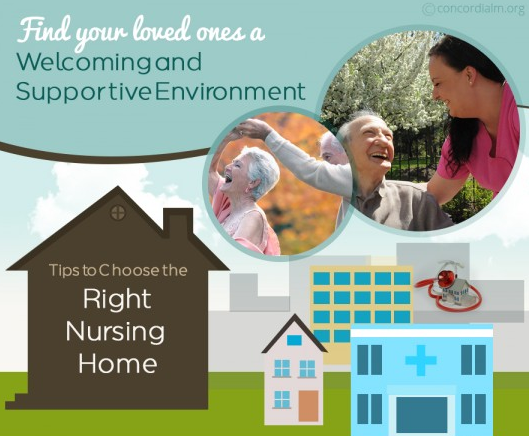 December 3, 2014 - Whether you or someone you know is approaching the age of retirement, senior living may not be far off from your mind. What many people don't recognize is that there are a wide variety of options available for seniors who may need some assistance as they approach the later years of their life.
Nursing homes are just one type of these facilities. Throughout the country, there are over 16,000 nursing homes. Choosing the perfect one for you or your loved ones is no easy task. Let the caring, friendly staff at Concordia help narrow down your decision with their latest infographic, "Find Your Loved Ones a Welcoming & Supportive Environment."
Concordia believes that knowing what to look for when it comes to your search for the perfect nursing home can go a long way in helping you narrow down your search.One of the first things to look for in your search is any certifications the potential nursing home has. Certifications and accreditations from third-party organizations such as CARF International can serve as a testament to the quality of care and services that your loved one will receive at the nursing home.
Next, pay close attention to the environment and atmosphere of a nursing home. Take particular notice of the attitudes of both the residents and the staff, the cleanliness of the grounds and the security and safety measures that are in place. Additionally, look for signs of the activities and freedoms that residents are allowed to participate in during their stay. Being able to live independently and have a variety of activities to take part in can help your loved one more easily adjust to life in their new home.
The final factor to pay careful attention to during your search is the cost or fee schedule for any nursing home. While cost shouldn't be the only factor in your decision, understanding how much the services cost and when the fees have to be paid can play a big role in your decision. By law, all nursing homes are required to define their fees for service clearly, so make sure to ask if anything seems unclear.
Making the decision to place your loved ones in the helping hands of a nursing home facility is never easy. Let Concordia Lutheran Ministries guide you along the way to choosing the perfect nursing home by viewing their infographic at
http://concordialm.org/blog/find-your-loved-ones-a-welcoming-supportive-environment-infographic
.
If either you or someone you know is in need of long-term nursing care, let the caring staff of Concordia Lutheran Ministries lend a helping hand. Within the Concordia senior living communities, there are several different options for experienced nursing care, allowing you the convenience of choosing the location that is perfect for the needs of both you and your loved one. Discover more about what Concordia can offer you by visiting
concordialm.org
.
Email Concordia Lutheran Ministries