Portland CPA Offering Multiple Tax Law Classes During Tax Season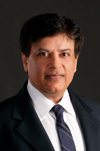 December 9, 2014 - Portland, OR
- Ashraf Molvi has announced that he will be giving tax presentations during the upcoming tax season. These classes are designed to help business owners stay abreast of new laws.
"Tax laws are always changing," Ashraf said. "I give these classes so people can stay informed and up-to-date about the laws that could affect their business."
Ashraf will be giving three or four presentations early next year. They will be conducted in conjunction with LoanStar Home Lending, a mortgage banking firm that works with real estate professionals.
"Even for people who are in the industry, taxes can be tricky and difficult to understand," Ashraf added. "I encourage the realtors and other business owners to come to my classes to learn about all of the new tax laws and regulations."
Because tax laws are constantly changing, Ashraf makes it a point to provide multiple presentations each year to accommodate every tax law change. This way, business owners will be constantly aware of tax law details.
About MOLVI CPA, LLC and Ashraf Molvi
MOLVI CPA, LLC is a CPA firm that provides accounting,
tax
, and consulting services to individuals and businesses in the Portland area. The staff values their relationships with their clients and takes pride in helping them prosper.
Ashraf Molvi
has 20 plus years of experience as an accountant. He received his Accounting degree from California State University at Long Beach and holds a CPA license in both Oregon and California. Ashraf has particular experience in the hospitality, healthcare and real estate industries.
An active member of the community, Ashraf is currently serving on the board of the Lake Oswego Chamber of Commerce.
For more information about MOLVI CPA, LLC, please visit
molvicpa.com
.