Credit Fraud and Retail Data Breaches Show More Consumer Protection is Needed, Says Pioneer Law Firm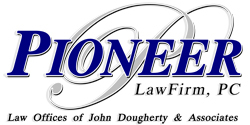 Westminster, CO – Dec. 9, 2014
– Pioneer Law (PioneerLawFirm.com) a Colorado firm providing bankruptcy, FDCPA, real estate, and business law services warns consumers to carefully monitor their card transactions over the holidays. Data breaches at more than 20 retailers this year have challenged banks while scams targeting consumer financial data have grown in complexity. Regardless of the safeguards individuals take, the best defense is to actively review credit card and checking purchases as part of a regular routine.
Consumers are feeling less safe when shopping online or at physical stores after a year of breaches at major retailers such as Home Depot, Michaels, and Target. With hundreds of millions of accounts accessed by criminals, credit fraud and identity theft are growing concerns. A survey by
creditcards.com
showed that 45 percent of respondents would definitely or probably avoid one their regular stores over the holidays that had experienced a data breach. Of those surveyed, 13 percent are more likely this season to shop with credit cards, while 48 percent said they would use cash instead of a credit card. Some of the retailers with breaches in the past year have begun offering
credit monitoring services with protection
with protection for their customers to win back brand loyalty.
In the end, the best defense suggested is for consumers to frequently
check card transactions
more frequently during the holiday season. Federal protection of fraudulent transactions changes dramatically as time passes. Reporting an improper charge within two days limits personal liability to $50. After that the liability under federal law increases to $500. After 60 days there may be no protection.
The breaches and scams identified vulnerabilities and the growing sophistication of hackers targeting financial information. A number of
credit score scams
have also emerged using phishing tactics to get consumers to give credit card information and access to their accounts in exchange for dubious "credit protection" services. Over
200,000 consumers
have been taken in by more than 50 websites under investigation by the FTC. Three companies have already agreed to refund $22 million under a settlement with the federal government.
"The breaches this year were so dramatic that banks began issuing new cards preemptively to protect consumers. While this causes some hassle for individuals who aren't immediately impacted, the response from the banks show the delicate vulnerabilities within the financial system. Most of the protections are reactive, waiting for criminals to strike. The impact of the attacks and lack of protection is clearly reflected in public opinion surveys," says John Dougherty, Founding Attorney at Pioneer. "Even as retailers, banks, and regulators put new safeguards in place, the criminals are devising new schemes that test our protections. Consumers need to be increasingly vigilant to protect against fraud and identity theft."
About Pioneer Law
Pioneer Law is a legal firm specializing in Bankruptcy, Business Litigation, FDCPA, and Real Estate law. For those paralyzed by debt, disputing with a business, troubled by a collector, or involved in the sale of real estate, the specialists at Pioneer Law are prepared to advise, represent, and give peace of mind. For more information visit
PioneerLawFirm.com
.