500 B2B companies analyze their web site traffic with Azalead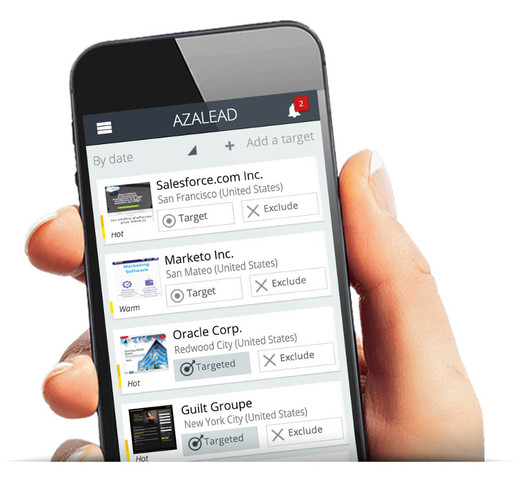 December 10, 2014 - Azalead announced at LeWeb Tech conference in Paris today that they now track over 500 B2B company websites worldwide.
The Company offers an Account Based Marketing (ABM) solution in the form of a mobile app. Azalead monitors website traffic and alerts sales people when their target accounts are most likely to buy.
Azalead B2B analytics is powered by the Azalead real-time company identification API. The Company uses proprietary algorithms and machine learning to identify B2B visitors, analyze pages visited and score sales leads.
"B2B marketers are too focused on lead quantity but sales people really want targeted and timely leads." says Nick Heys, Co-founder & CEO. "Sales people that use Azalead have a competitive advantage because they contact their target accounts during the critical stages of the buying cycle. When combined with an account based marketing strategy this technology generates significant improvements in sales performance".
Azalead is a finalist in the LeWeb Start-up competition. CEO Nick Heys will be demoing the Azalead B2B mobile analytics app on-stage during the tech conference in Paris on December 10th at 15:20 CET.
About Azalead Software
Transforming the way B2B companies win new business, Azalead is the international B2B marketing analytics company. Azalead's proprietary real-time company ID technology analyzes B2B website traffic and provides marketing intelligence to sales people when it's needed. Azalead integrates with complementary sales and marketing applications including Salesforce.com. Founded by Nick Heys and Hervé Paolini in July 2013, Azalead is used by over 1000 B2B sales and marketing professionals in 27 different countries. The company is headquartered in Paris, France and is privately held.