Hyatt Capital Gate Abu Dhabi Is Celebrating Its Third Anniversary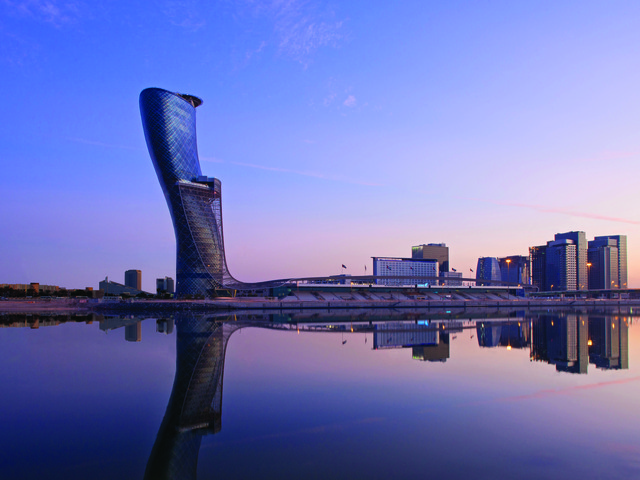 ABU DHABI, UNITED ARAB EMIRATES (December 11, 2014) –
Hyatt Capital Gate Abu Dhabi
will be celebrating its third anniversary, commemorating the first time it opened its doors on December 21, 2011.
"Throughout the years, the hotel has witnessed an exciting growth in occupancy and patronage from both business and leisure guests from across the globe, it is encouraging to experience the warmth and acceptance of the first Hyatt Brand here," said Stefan Gaessler, General Manager of Hyatt Capital Gate. Since inception
Hyatt Capital Gate Abu Dhabi
has received worldwide recognition from various TV shows and magazines, such as Mega Structures (National Geographic), the Discovery Channel and TV Canada. Closer to home, the property has featured on Abu Dhabi Week TV (Etihad E-BOX), Millions of Poets, Dubai One and Abu Dhabi Al Emarat.
Since opening, the hotel has constantly found new ways to exceed guests' expectations through authentic hospitality. As a result over the years,
18 Degrees (18°)
has won several accolades, not to mention
Rayana Spa
winning The Best Luxury Boutique Spa, Rayana Spa - 2014 World Luxury Spa Awards Global Winners. And the coveted The Best Business/City Hotel- Middle East Hotel Awards 2014.
Not only does Hyatt Capital Gate Abu Dhabi welcome worldwide guests, the hotel feels it has a responsibility to give back and increase its foot prints in the lives of all.
Hyatt Capital Gate Abu Dhabi
aims to support various organisations, such the Autism Support Network, as well as Ewa'a, a shelter for women and children which were victims of human trafficking, by raising funds and providing education to help the affected reintegrate into society.
The hotel is receipt of the ISO 14001 certification, which identifies the hotel as an environmentally friendly business entity; it has also passed several high level security checks.
The hotel is an iconic symbol representing Abu Dhabi, where the Capital Gate tower, has earned a place in the Guinness Book of World Records for its 18 degree lean - more than four times that of the world-famous Leaning Tower of Pisa.
In celebrating the success of the hotel, several interesting competitions with grand prizes will be held across the social media channel of Facebook and the famous Abu Dhabi Week.
For additional information on Hyatt Capital Gate Abu Dhabi, please call +971 2 596 1234 or visit our website at
abudhabi.capitalgate.hyatt.com
.
Email Hyatt Capital Gate Abu Dhabi