Philip Pelusi Helps Customers Find the Perfect Hairstyle for Their Look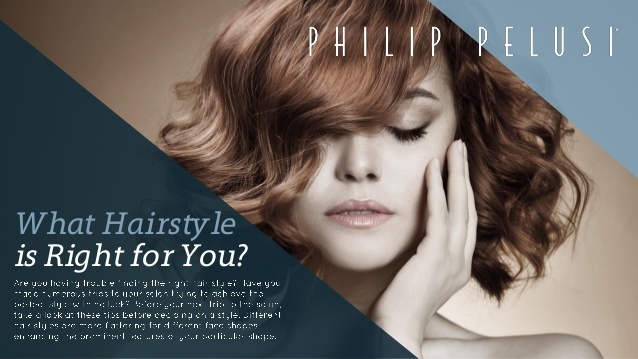 December 13, 2014 - Since your hairstyle is often your best accessory, it comes as no surprise that so many women spend days researching different hairstyles before settling on the perfect one for their next hair appointment. With their newest slideshow, Philip Pelusi hair salons want to help make finding your next hairstyle easier than ever.
The first step to any great haircut is determining your face shape. Once you know what your basic facial shape is, you can then begin to narrow down the hairstyles that highlight your best features. Determining your face shape is rather easy, as most shapes fall into one of six different categories – oblong, oval, round, square, diamond or heart.
All that you need to accurately measure your face is a tape measure or ruler and a full-length mirror. Begin by pulling your hair away from your face, and measure the length of your forehead at its widest point. Continue moving down your face, stopping to record measurements at the cheekbones and jawline before finally measuring the length of your face from the bottom of your chin to the crown of your forehead.
If your overall facial measurements are longer than they are wide, you fit in under the oblong facial shape. A hair stylist can help you find hairstyles that help make your face appear wider, keeping your hair length either above or below the chin to draw attention away from your strong jawline.
Oval facial structures are similar to oblong, except they become wide at the cheekbones before tapering off at the jawline. Almost any hairstyle is suited to work well with an oval face, but working with a professional salon stylist can help you make the most out of your individual facial features.
Long, layered hairstyles work best with round faces, which are just as long as they are wide. These longer hairstyles will help slim down your face and help to make your face appear less round than it actually is.
Narrow foreheads and strong, square like jawlines are the distinctive characteristics of a
square face. For women looking to soften up these strong facial features, very long hairstyles or soft layered bobs are recommended.
A classic bob or a flipped-out layered cut is the best way to highlight the impeccable bone structure of a diamond facial shape. For those women who prefer including bangs in their personal style, having them fall just below the eyebrows can help provide an even more flattering look.
Women with heart-shaped faces should look for a hairstyle that best complements their strong, full cheekbones. Avoid adding any extra height to your facial structure with side swept or wispy styled bangs.
Once you know your facial shape, begin researching different hairstyles that will help highlight your best features. Check out the slideshow at
http://www.philippelusi.com/blog/hairstyle_right_for_you/
to begin your search.
No matter what your facial structure is, consult the professional salon stylists at Philip Pelusi to help you determine the best hairstyle for you. Every appointment at a Philip Pelusi hair salon includes a complimentary image profile consultation, helping you understand what hairstyles, textures and colors will work best with your personal style. To make an appointment, or find out more about the salon services offered by Philip Pelusi, please visit
www.philippelusi.com
.
Email Philip Pelusi Salons