Encinitas Periodontist Offers Tissue Regeneration to Combat Effects of Periodontal Disease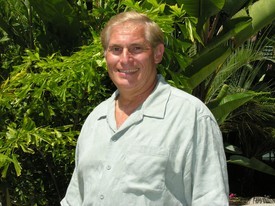 December 16, 2014 - Encinitas, CA
- Dr. Leonard Koltun helps treat advanced gum disease with bone and soft tissue regeneration services.
"Gum disease is a serious matter," Dr. Koltun states. "Most people have some form of it, and, if left untreated, it leads to severe oral health problems." Advanced
periodontal disease
causes infection to oral structures and results in gum recession, as well as bone depletion. When deep pockets of harmful bacteria accumulate below the gum line, gum tissue begins to recede and the bacteria, as well as the individual's immune system, eat away at the bone. If there is no longer enough tissue to support a tooth, it may have to be extracted.
The regenerative procedures that Dr. Koltun offers are designed to restore tissue and bone that have been lost due to gum disease. Dr. Koltun performs
surgical grafts of bone and soft tissue
to build up supportive oral structures that have been weakened by gum disease. With these sophisticated treatments, Dr. Koltun is able to reach out to patients in his community with care that helps them regain their oral health and preserve their natural teeth.
"I have extensive experience, both clinical and teaching-based, repairing the damage caused by periodontal disease," Dr. Koltun adds. "I want my patients to know that, with the latest surgical innovations, there is always a solution — even for situations they may have thought were hopeless." With surgical periodontal treatment from Dr. Koltun's Encinitas periodontal office, patients in his area are able to prevent tooth extraction by building up support for oral structures which has been diminished by the progression of gum disease.
"We are happy to help our patients achieve a stronger foundation for improved oral health by providing them with more immunologically supportive tissue through our surgical periodontal treatments," Dr. Koltun says.
About Leonard Koltun, DDS
Dr. Koltun has been actively involved in biological, medical, and dental research for over 20 years. He graduated from New York University Dental School in 1981 and received a fellowship in Oral Medicine and Surgery at Memorial Sloan Kettering Hospital. He then went on to pursue his postdoctoral training, which included research and teaching positions, in Periodontology and Oral Medicine at NYU. He was also on the surgical staff at five hospitals in the area and founded a Seattle Study Club in New York, as well as a separate study club in Encinitas, CA. Dr. Koltun is a member of several professional organizations, including the American Dental Association, the San Diego Dental Society, and the American Academy of Periodontology. He is a past member of many academic research groups, such as the National Institute of Health, National Cancer Institute, and the National Academy of Science.
For more information about treating periodontitis with innovative oral surgery, visit Dr. Koltun's website at
encinitasperiodontist.com
.
Email Leonard Koltun, DDS