Photographer Brad Anderson's Images Contribute To Local Architect Honor, County Administrative Center Waterfront Park Awarded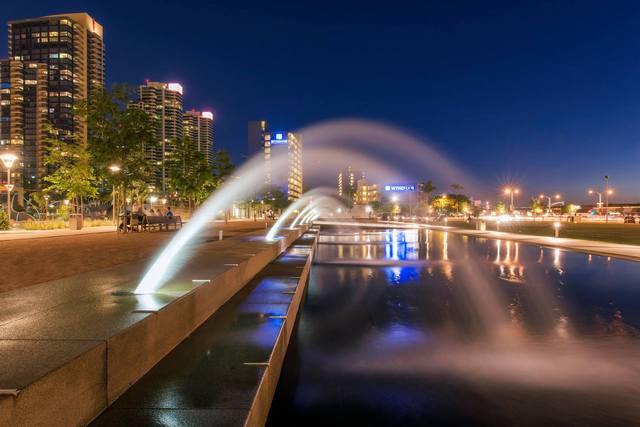 December 16, 2014 - The American Society of Landscape Architects San Diego announced their 2014 awards recently, and The County Administrative Center Waterfront Park Received an Award of Honor. The project was developed by Hargreaves Associates / Schmidt Design Group Inc. Images of the project were shot by local photographer Brad Anderson of ArchitecturalPhotographyInc.com.
This was a unique architectural photography project with the combination of buildings, fountains, expansive concrete areas, grassy lawns, and even ocean views. Anderson has nearly 18 years of experience in landscape and architectural photography.
"Landscape photography was my early passion, so it was a dream job to work on this project," said Anderson. "Glen Schmidt's work is stunning and it's important to have impactful photos that capture the unique angles and overall design. It's very satisfying to know that my images were part of the presentation that was submitted for review."
Another project Anderson photographed recently also received high awards. Anderson shot the SAC Federal Credit Union Headquarters in Omaha last Spring for Leo A. Daly Architects. That building was the recipient of both the Nebraska Design AIA Award and the Central States Region Design AIA Award.
Anderson is hired by architects, interior designers, building owners, building suppliers, resorts and hotels, and has photographed structures all over the country including, The Cromwell Las Vegas, Gas Company Lofts (Los Angeles), Horton Plaza (San Diego), Lennox (North Hollywood), Mission Valley Library (San Diego), Kaiser Permanente (Ontario, CA), The Hilton San Diego Gaslamp Quarter, the Encinitas Wastewater Authority and more.
About Brad Anderson
Brad Anderson is the founder and owner of ArchitecturalPhotographyInc.com, based in San Diego. He has been a photographer for the commercial and residential industries for nearly 18 years. Specializing in lighting design, Brad can create a customized design or augment the projects existing lighting, setting your architectural image apart from any comparison. For more information, please visit: ArchitecturalPhotographyInc.com or call 888-788-5554.
Email Architectural Photography, Inc.