Gerald Everett Jones Praised for Christmas Karma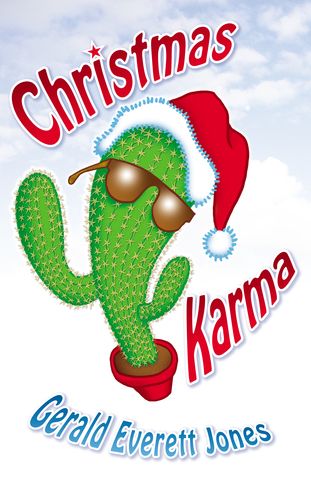 December 24, 2014 - Thomas Page, author of The Hephaestus Plague and The Man Who Would Not Die, has said, "This homage to Anne Tyler is a Christmas parable for the rest of us – whether faithful, backsliders, slackers, or just I-don't-knowists."
Released in trade paperback and Kindle ebook last month, Christmas Karma is indeed author Gerald Everett Jones's homage to Anne Tyler, whom he regards as his literary mother. This darkly humorous novel is about the travails of a dysfunctional family around the holidays, narrated by an angel who has a wicked sense of humor. Main character Willa Nawicki is bewildered by a series of curious karmic events that literally ring her doorbell during the frantic season, awakening years-old resentments and stimulating ever-more-intense personal confrontations. These bizarre visitations include a grizzled old man claiming to be her father, who has been missing for some thirty years but now says the title to the family home is in his name – and now he wants the place back.
Thinking about her childhood notions of Christmas, Willa wonders, "We were thinking, will I get what I want? Sometimes, maybe even most of the time, we'd get what we'd asked for. But did we ever get what we truly wanted? Any of us?"
As the angel observes, "The surest way to invoke the laughter of the universe is to make plans, particularly devious ones."
Jones explains, "You don't need to have any particular brand of religious faith - or any at all - to enjoy this book. Most of all, please don't take any of it too seriously. I wrote Christmas Karma after I'd gone through a series of personal losses. I think in those situations everyone experiences a whole spectrum of emotions, from bewilderment, to anger, and even at times some relief that your dear one's suffering is over. And then I thought about how, if the soul is truly immortal - and, if so, it can't ever be hurt, harmed, or endangered - wouldn't it have a sense of humor? And, yes, it's quite literally the 'angel's-eye-view' story Anne Tyler might write. Her next novel, A Spool of Blue Thread, won't be released until February. So I'm hoping her fans won't wait another day to read Christmas Karma."
Lian Dolan, bestselling author of Helen of Pasadena, judges Christmas Karma to be "a funny, charming and unexpected tale of holiday dysfunction at its best. A Christmas treat all wrapped up in cactus, Southern California style. You never know who will ring the doorbell next at Willa's house, but you know they bring a touch of magic."
John D. Rachel, author of An Unlikely Truth and The Man Who Loved Too Much, said: "Gerald Everett Jones creates great characters, spins fascinating if often twisted stories which will have you smiling and constantly wondering what happens next, offers witty but realistic dialogue, massages it all with a superior command of the English language, then climaxes each novel with an unexpected but wholly satisfying ending. No pretense. No gimmicks. No strained overreach. Just good, solid, totally engaging writing. Have fun with this. And hope that your own Christmas karma arrives as well-packaged as this book."
Pamela Jaye Smith, author of Show Me the Love! All Kinds of Love for All Kinds of Stories, has this to say: "A fun yet thoughtful story with quirky characters, twists and turns of plot, philosophical musings that fit perfectly against the action, and resolutions that may or may not be karmic…who's to tell? A good read for Christmas, any holiday that brings families together, or actually, any other time at all."
Marilyn Anderson, author of Never Kiss a Frog: A Girl's Guide to Creatures from the Dating Swamp and How to Beat a Bully (the book and the movie), sums it up: "All of life's lessons should be so funny and entertaining. If you don't believe in angels or ghosts, just think of it all as 'magical reality.'"
Gerald Everett Jones is a freelance writer who lives in Santa Monica, California. Christmas Karma is his ninth book for LaPuerta. His first was the tongue-in-cheek business title How to Lie with Charts. His previous humorous novels include the "boychik lit" series of Rollo Hemphill Misadventures, as well as Mr. Ballpoint, a father-son comedy based on the true story of the Pen Wars of 1945.
Jones is a top reviewer on Goodreads.com and hosts a weekly book review segment on KRLA 870 AM radio in Los Angeles. He blogs about fiction and humor at BoychikLit.com. The LaPuerta imprint and its logo – an open door – symbolize unlimited access to knowledge, opportunity, innovation, fascination, and delight.
Email La Puerta Productions
Attachments