San Angelo Dentist Offers Cosmetic Dentistry Services for Local Patients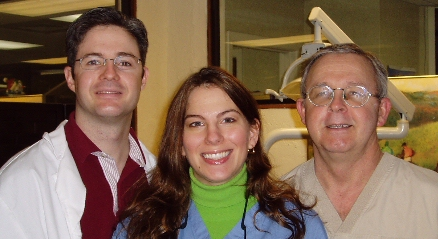 December 30, 2014 - San Angelo, TX
– The dental team at Reel Family Dentistry is excited to share their wide array of cosmetic dentistry services, now offered in their San Angelo dental office. The family of dentists is pleased to be able to house the latest technology necessary to provide the highest quality dental care for their community.
The dentistry is comprised of Drs. Harold Reel Jr., Chad Reel, and Justina Reel. The family has been serving their San Angelo community for over a decade with cosmetic dentistry services ranging from dental implants, porcelain restorations, teeth whitening,
general orthodontics
and more.
"These days, cosmetic dentistry is becoming one of the most popular ways to improve a smile," says Dr. Harold Reel. "We offer our patients a variety of services so they can have confidence in a smile they have always wanted."
The cosmetic dentistry services at Reel Family Dentistry come along with the latest in digital technology. Devices such as
CEREC
and
Empress Restoration
technology allow patients to receive natural-looking crowns, bridges, veneers, inlays, and onlays with optimal results.
"Digital technology is continuing to have a positive effect on the dental field," says Dr. Reel. "Patients can receive a more precise diagnosis, while also receiving high quality care. A smile says a lot about you, and a fully bright and straight smile is what's going to give off the best impression."
CEREC technology is able to create dental restorations in a single dental appointment. Empress products provide fracture resistant restorations, and are as much as 50 percent stronger than traditional restorative appliances.
About Reel Family Dentistry
Dr. Harold Reel Jr. graduated in 1979 from the University of Texas Dental Branch at Houston, Texas. Dr. Reel began practicing dentistry in San Angelo, Texas in 1979. He has been a member of the American Dental Association, Texas Dental Association, and the San Angelo District Dental Society for over thirty three years.
Dr. Chad Reel is a graduate of Wall High School, salutatorian for the class of 1994. Using an earned Carr Scholarship, he attended and graduated from Angelo State University in 1997. In 2005, he graduated from Tufts University School of Dental Medicine in Boston, Massachusetts and joined his father in the practice of dentistry.
Dr. Justina Reel graduated from Central Connecticut State University in 2000 then Tufts University School of Dental Medicine in 2004. After graduation, she entered the U.S. Army as a Captain and served three years that included a one year tour of duty in Iraq. She joined Drs. Harold and Chad Reel in 2007.
Email Reel Family Dentistry