Mystery Novelist Digger Cartwright's Christmas Message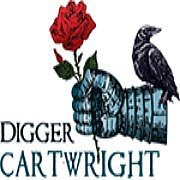 Orlando, FL December 27, 2014
- The office of mystery novelist Digger Cartwright has released Mr. Cartwright's Christmas message delivered on Christmas Day at the Thinking Outside the Boxe Symposium and Champagne Summit in Orlando. Mr. Cartwright was speaking at a luncheon for symposium participants.
The transcript of Mr. Cartwright's speech follows: "Thank you. Thank you all for being here. More importantly, Merry Christmas to you all and may God bless each and every one of you and your families now and in the New Year. We are all truly blessed in so many ways. Those of us here are blessed with good health, and we're blessed to have been born free here in America, which despite our problems remains the greatest nation on earth.
The spirit of Christmas is easily summed up as peace on earth and goodwill toward men. Peace and goodwill are noble ambitions. Each of us should undertake to fulfill peace and goodwill each day. Peace on earth, peace among nations, is a lofty ambition that individually we can't fulfill. It is rather for the leaders of nations to attempt to find peace among men. On an individual level, peace and goodwill are much more attainable for each of us.
Peace with oneself and peace with those around you can do more to enrich your life and the lives of those around you than almost any other single effort you undertake in life. You must first be at peace with yourself before you can find peace with others. Today, in America, a large portion of prescription drugs are for stress and stress related ailments. Clearly, we're not at peace with ourselves. Not surprisingly, a shrinking number of Americans attend church on a regular basis or identify themselves as Christians. The material world in which we live has seen more and more Americans turn away from God and the spiritual peace that it brings in favor of materialism. People seek to consume more and have more and better things as a way to try to find peace and happiness as opposed to searching for peace through faith and spirituality.
We see movements to religiously emasculate Christianity here in America. Merry Christmas is being phased out by liberal elitists who want to secularize Christmas in favor of a more generic Happy Holidays, one focused on consumption and materialism. The reason for the season can no longer be talked about or celebrated if some had their ways. The nativity scenes are being taken away. The Christmas trees are being banned. And how about the signs that say Merry X-mas? It is a sad reflection of the declining spirituality in our society.
I attribute this decline to the manipulation by non-Christians and secularists. To be sure, we are a nation of religious tolerance. People are welcome to practice whatever religion they like here, but let's not forget that we were founded by Christians and the majority of our nation claims to identify themselves with Christianity. It is not for those of another faith or those of no faith to impose their will upon those of us of the Christian faith. I'll gladly accept holiday good wishes from those of other faiths and will wish them well in return. Let us not allow the spirit of Christmas and the reason for the season to be put asunder by those in the minority who either do not like our religion or those who are of no faith.
Let us keep the Christmas holiday alive and well not for the material gift giving aspect but rather for the true meaning of Christmas and what that means for those of the Christian faith. In doing so we strengthen our spiritual foundations, which can help us to find inner peace and tranquility. A spiritual void in life can only be filled by turning to God, not turning away from God. Christmas should remind us of this. Only once we have found peace with ourselves can we hope to find peace with others.
It is peace with others in our lives that we must strive towards once we achieve peace with ourselves. Now more than ever before family and friends are in conflict for a host of reasons. Families are torn apart. Friendships are challenged by the self-centeredness of individuals. We are growing apart from one another, from the very people with whom our bonds should be the strongest. As people become increasingly disillusioned by the rift with family and friends and with the void created in their own lives, they seek comfort and satisfaction in materialism, drugs, prescription meds, alcohol and so on. But all this does is ease or mask the pain. Thus, they too turn from spirituality and create their own voids in life, voids which go unfilled.
During the Christmas season, it is an opportune time to mend those tattered relations and begin to bring peace amongst those closest to us. Society as a whole and we as individuals only become better off and more secure as we bring peace amongst us. This peace is attainable for us in short order, and once we have achieved peace with ourselves and peace with others near and dear to us, we can begin a process of spiritual healing which is so desperately needed in America.
Only once we have found peace with ourselves can we hope to truly embrace the concept of goodwill. For those of us who have been blessed with abundance and security, the Christmas season reminds us of the need to offer goodwill to those less fortunate. It provides us the opportunity for charitable giving-to homeless shelters, food kitchens and food banks, animal shelters, disadvantaged families or those who are on hard times, and the elderly, the sick, or the infirm.
There is a passage in the book of Luke: For unto whomsoever much is given, of him shall be much required: and to whom men have committed much, of him they will ask the more. If we have been entrusted with more than what we need, no matter how great or how small, why then would we not seek to help those less fortunate? I have long advocated that instead of exchanging gifts at Christmas and fueling the materialism and secularization of Christmas we should give to charitable causes. It seems a very Christmas thing to do.
Sending a check to the charity of your choice is an admirable thing to do, and I wholeheartedly support that. I, however, take a different approach. Financial support of a charitable organization can be used for administrative expenses which are necessary but which don't directly benefit the cause. As you know, I am an ardent supporter of no-kill animal shelters and animal rescue causes. I take or send supplies-cat and dog food, litter, toys, treats, blankets, cleaning supplies. The food will go directly to nourishing an orphaned animal living in a cage in a shelter. The blankets given to the homeless shelter will keep a homeless person warm. The food sent to the soup kitchen will be eaten by those who are hungry. The clothes and personal items for the family who lost their house to a fire will directly benefit that family. It is a practical yet an effective approach to giving at the holidays.
But to be sure, it is not just about money and finances. Even those who have not been given as much as others in terms of finances can still give back. We all have time and we can all find a little bit of extra time to volunteer as a way of giving. Animal shelters, homeless shelters, soup kitchens and other organizations are always in need of volunteers to assist. I would encourage any who are able and willing to serve to consider helping organizations in this capacity.
Our society has become increasingly focused on the individual, and in the process we have been set adrift spiritually. It is my hope that this Christmas and in the coming New Year that we find increased devotion to finding peace within ourselves, amongst those closest to us, and to the spirit of generosity and giving to those less fortunate and those in need. Peace and goodwill are timeless lessons that should eclipse us as individuals. We can make a difference in the world around us and in the process make the world a better place for all of us.
May the spirit of Christmas shine in your hearts this holiday season and in all the days to come. Thank you all, Merry Christmas, and God bless you and your families!"
About Mr. Cartwright- Digger Cartwright is the author of several mystery stories, teleplays, and novels including Murder at the Ocean Forest, a traditional mystery novel set in the 1940s, The Versailles Conspiracy, a modern day political thriller, The House of Dark Shadows, a psychological thriller, and The Maynwarings: A Game of Chance, a mystery set in the Old West, and Conversations on the Bench, an inspirational/motivational novel. His books are available in hardback, paperback, and e-book format through his website,
www.DiggerCartwright.com
, on-line booksellers and bookstores.
Mr. Cartwright has contributed to a number of articles on a wide range of financial, strategic planning, and policy topics. He frequently contributes articles, commentaries, and editorials focusing on current economic and political topics for the private think tank, Thinking Outside the Boxe.
Mr. Cartwright is an enthusiastic supporter of local no-kill animal shelters, the Wounded Warrior Project, and local Meals on Wheels programs.
He enjoys golf, participating in charity golf tournaments, and attending WWE events. He divides his time between Washington, D.C., South Carolina, and Florida.
Press Contact:
Executive Assistant to Mr. Cartwright
Telephone: 888-666-1036
Website:
http://www.DiggerCartwright.com
Facebook:
http://www.facebook.com/DiggerCartwright
Twitter: @mysterydigger
Blog:
www.MysteryDigger.com
Daily News Briefing:
www.MysteryWriterNews.com