Tudi Releases Their Guide to Upgrading Your Home's Heating System in time for Winter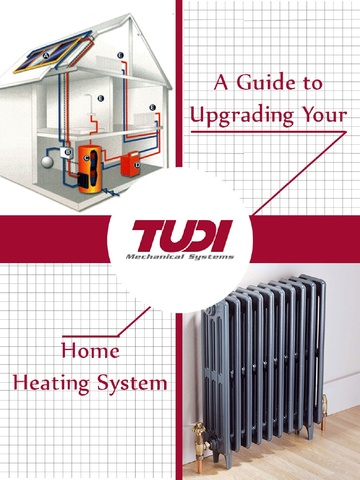 January 3, 2015 - Keeping your home warm in the cold months of winter puts a lot of strain on your home's heating system. While many people may not want to front the cost of replacing their existing furnace, a new furnace may help you cut costs in the long run. Make sure you are getting the best furnace for your money with help from Tudi's latest white paper, "A Guide to Upgrading Your Home's Heating System."
Keeping your furnace up to par and running to the best of its ability can make the difference between being cold and being comfortable. Most furnaces should last anywhere between 15 and 20 years if they are properly maintained and cared for over the years. If your home heating system is out of date, call your local HVAC repair professional or heating technician to look for any areas of concern with your unit. A professional heating technician will be able to recommend any necessary repairs, replacements or upgrades to your home's heating system.
Once you've determined that you do need a new furnace, you should begin to assess your home heating needs. Rather than using your existing furnace as a guide, make sure that you do a thorough amount of research to determine what size furnace you need. Pushing your furnace too hard will result in a shorter lifespan for your heating system, while buying a furnace that is too large for your home will end up costing more money than needed.
In addition to researching what size furnace you will need for your home, make sure to check out all the different furnace brands that are available. Each brand has its own set of advantages and disadvantages, but you will want to make sure that your local heating technician has experience working with whatever brand you end up purchasing.
When you are shopping around for a new furnace, keep a lookout for any furnace that includes the Energy Star label. This label serves as a certification that the furnace goes above and beyond the norm for energy-efficiency. These furnaces include technologies that help reduce your home's carbon footprint and help you save on energy costs.
During your shopping process, it is wise to consult closely with your preferred service professional. Not only can a professional heating technician install your new furnace, they can also help you select the best furnace for your home as well as show you how to use the furnace to make sure it is running at top efficiency.
Turning to a home heating expert will help ensure that you find the most efficient solution to your home heating problems. If you're in the market for a new furnace, make sure you start your research off right by reading Tudi's white paper at
www.tudi.com/guide-upgrading-home-heating-system-white-paper
.
From residential heating and cooling services to home plumbing and electrical needs, Tudi is your one stop shop for your home mechanical system service needs. Discover how you can save up to 30% on your home's utility bills by visiting
www.tudi.com
.