Hispano Americano Hospital introduces a brand new Neurology Center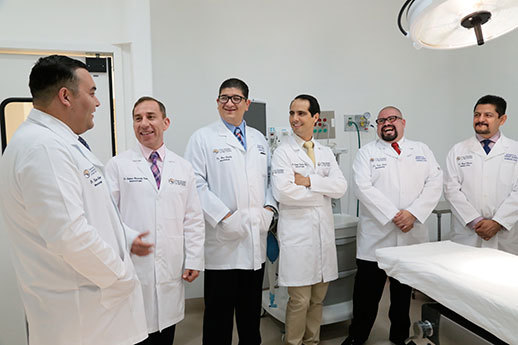 January 13, 2015 - Hispano Americano Hospital introduces a brand new
Neurology Center in Mexicali, Mexico
, with the top neurologists and neurophysiologists in the region. The program features a comprehensive team of physicians ready to address all types of neurological conditions. It is composed by two neurologists with subspecialty in neurophysiology, three neurosurgeons with a specialty in brain endoscopy and column, two with subspecialty surgery in column, one with subspecialty of pediatric surgery, one neurologist with subspecialty in endovascular therapy capable of resolving vascular pathologies and endovascular brain and one Neuroanesthesiologist.
Dr. René González,
board certified neurologist and neurophysiologist, is part of the Neurology program at Hispano Americano Hospital in Mexicali, Mexico. He is considered the best neurologist in Mexicali.
The team of
neurologists in Mexicali
at Hispano Americano Hospital has a broad expertise in all neurological fields and with a bold track record in the treatment of conditions such as Multiple Sclerosis, Epilepsy and Parkinson's Disease. Multiple sclerosis in Mexicali (MS) is a disease that affects the white matter of the brain and spinal cord, causing the appearance of sclerotic plaques that prevent normal operation of these nerve fibers. Epilepsy is a disease that is consequence to an abnormal discharge or abnormal neuron hypersynchrony. Epilepsy occurs in between 1 and 2 percent of the world population and usually starts before one year of age or after age 65. Parkinson's disease in Mexicali is a pathology that is characterized when the patient has tremor, but the disease does not start that way. It occurs between 40 and 70 years and is more common in men.
A spokesperson from
Hispano Americano Hospital in Mexicali, Mexico,
explained that this team of professional board certified physicians is in constant update in courses and congresses in the United States and Europe.
Neurology in Mexicali
at Hispano Americano Hospital, the best hospital in the city, offers the whole regional and international community diagnostic services and neurological resolution, taking care of patients with neurological problems and covering all age groups. The
Neurology Center in Mexicali
is fully equipped with the latest technology to diagnose and treat these conditions.
Email Hispano Americano Hospital