Rio Vista Shores Hits 1000 LIKES on Facebook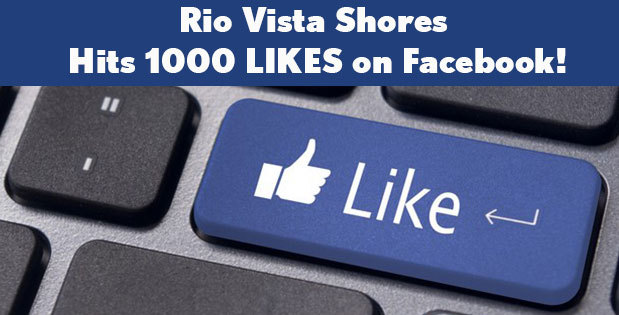 January 14, 2015, Wenatchee WA: Plenty of people are interested in learning about in Washington if Rio Vista Shores' recent achievement of 1000 Facebook "likes" is any indicator. Visitors use the
Facebook page
to learn about the upscale development on the shores of the pristine Columbia River, which is offering opportunities to purchase riverfront homes for sale and
invest in Washington real estate
.
Rio Vista Shores offers Wenatchee real estate investors breath-taking scenery inside their
Crescent Bar condos
. Nestled in the rain shadow of Washington's impressive Cascade Mountains, the location offers a temperate climate with easy access to year-round sporting activities. Rio Vista Shores uses its Facebook page to educate potential investors about the many joys of living in Wenatchee, and to share information about the Washington real estate investments.
"The whole development team is thrilled that our Facebook page has achieved this milestone," commented Jay Blatter of Hochhauser Blatter Architecture and Planning. "We want to use this outlet to educate potential investors about this unparalleled opportunity to invest in Crescent Bar real estate. We have worked hard to create an incredible living environment, and are pleased that it is now so close to becoming a reality."
Phase I of the Rio Vista Shores project will begin in early 2015. In this phase, development will begin on 5.6 acres of riverview real estate located directly on the Columbia River. Nine custom home sites will be available, with average lot sizes ranging between .565 acres and .715 acres. These lots are highly desirable since they represent some of the last undeveloped riverfront parcels in the area. They offer either a perfect location for a second home, or a desirable rate of return as an investment property as prospective buyers from Seattle, Portland, Victoria and Vancouver offer search for vacation homes in this area.
Recent Facebook posts feature a variety of things to do in Wenatchee, including fishing for salmon and steelhead in the beautiful Columbia River, and the entertainment opportunities available in nearby cities. Living in these riverfront homes provides access to numerous golf courses, a ski area, a public boat launch and many other amenities. Residents will have plenty of opportunities for entertainment and activities, while enjoying the stunning natural beauty of Rio Vista Shores.
About Rio Vista Shores:
Rio Vista Shores is the perfect combination of natural beauty and sound investment opportunity, a once-in-a-lifetime opportunity to invest in vacation homes for sale with prime
Columbia River acreage
. Visit the website at
http://riovistashores.com
to download a complimentary PDF of the Rio Vista Shores Homes Portfolio.
"Like" the Facebook page
to receive updates on the prime
riverfront real estate
. Call 1-877-746-2221 for further information on investments in this riverview real estate.