HVAC Brain Inc. offering SWEP brazed plate heat exchangers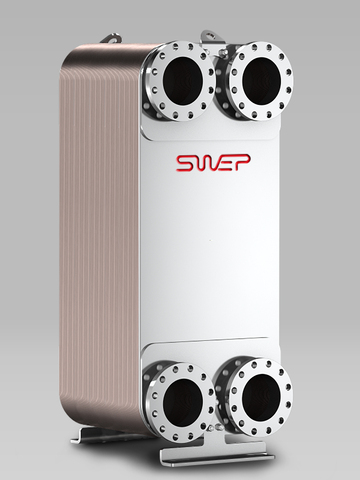 January 16, 2015 - HVAC Brain, Inc., retailer of HVAC/R equipment and replacement parts, carries a wide range of
SWEP brazed plate heat exchangers
for use in a variety of commercial and industrial applications.
Established in 1983, SWEP has grown to become a world-leading supplier of brazed plate heat exchangers. In order to produce innovative and efficient solutions for their clients, SWEP is dedicated to utilizing the latest technology in developing their products. SWEP brazed plate heat exchangers are suitable for applications including:
Air conditioning
Refrigeration
Heating
Brazed plate heat exchangers manufactured by SWEP feature compact design, offering flexibility in installation. The unit's smaller hold-up volumes help clients minimize system cost. With approximately 95% of the unit's material used to transfer heat, SWEP brazed plate heat exchangers are highly efficient and offer greater capacity utilization compared to other heat exchanger models. Because of these valuable advantages, HVAC Brain believes the SWEP line of products offers smart solutions for facility managers and HVAC professionals.
To browse the complete offering of SWEP products, please visit
http://www.hvacbrain.com/SWEP-Plate-Heat-Exchanger-s/2613.htm
.
Why shop at HVACbrain.com:
HVAC Brain, Inc. is a fast growing retailer of HVAC/R equipment and replacement parts. At HVACbrain.com, HVAC professionals and maintenance managers can find wide variety of 'hand-picked' high quality HVAC products such as Solar Water Heaters, Heat Pump Hose Kits, Energy Recovery Ventilators, and HVAC coils. With HVAC Brain's tight vendor relationships, customers can choose and order products without worrying about the quality of products HVAC Brain offers.
Contact Info: HVAC Brain, Inc. 9545 Midwest Avenue, Unit A - Cleveland, Ohio 44125, 216-663-4822.