Discover Your Creative Horizons with Cool 'Kick Start 2015' Program from Audio4fun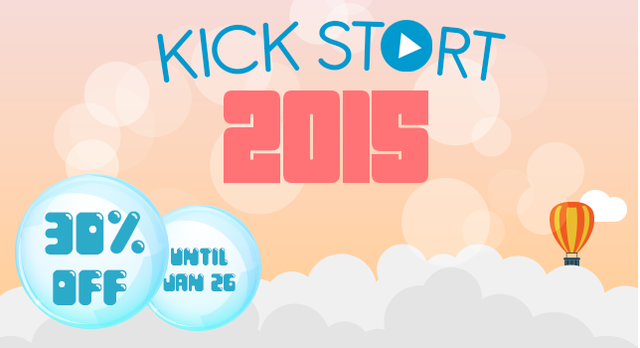 January 17, 2015 - As we start the new year, there are goals and resolutions that we all hope to achieve. One thing for sure is that people are trying to be as creative as they can to make 2015 their sparkling year. Albert Einstein once said, "Creativity is intelligence having fun." We agree that creativity happens when we know how to bring our ideas into reality, using our own unique styles. By joining Kick Start 2015 at Audio4fun, everyone can find incredibly helpful tips for this. More information about the program can be found at
http://www.audio4fun.com/promotion.htm
Kick Start 2015 is the first promotional program Audio4fun will run this year. The program is offering users the most versatile morphing tools at 30% OFF their regular prices, including
Voice Changer Software Diamond
,
Music Morpher Gold
,
Webcam Morpher
, and
Video Morpher
. With the help of these specialized tools, everyone can easily edit, morph, modify, replace, and even add special effects to their audio/video masterpieces effortlessly. In-depth specifications on each program are available at
http://www.audio4fun.com/
"We know January is an important month of the year, when we traditionally start fresh with new ideas. Therefore, we would like to help our users upgrade those ideas and turn them into excellent audio/video productions for the upcoming months of 2015," said Peter Nguyen, COO of Audio4fun, "Our advanced morphing software programs that specialize in professional audio/video manipulating processes and effects are definitely helpful 'assistants' in such projects."
Any creative audio/video products like E-greeting cards, voice mails, remixes, ringtones, movie making projects, and so much more are just few clicks away, once you have these brilliant yet easy-to-use programs in hand. "We encourage everyone to work on their original audio/video ideas for 2015, and we suggest that the addition of our software will provide them with a whole new level of ability to transform those ideas into reality in ways they've not done before," added Nguyen.
Make sure everyone knows about this attractive offer from Audio4fun, as it is only valid until Jan. 26, 2015. All users can visit
http://www.audio4fun.com/promotion.htm
for further information.