Mister Sewer Helps You Track What You Flush in New White Paper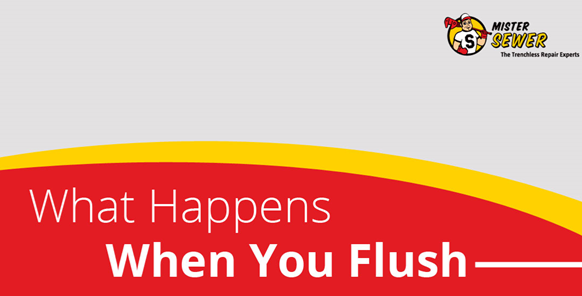 January 17, 2015 - Each time you flush, you put your home's plumbing and sewer line to the test. While many of us have come to expect everything to go flow smoothly, this is not always the case. Knowing how your home's plumbing and sewer system works is just the first step to preventing sewer troubles in your home. Make sure you stay informed by checking out the latest white paper from Mister Sewer, "What Happens When You Flush."
It comes without question that indoor plumbing is truly one of the most unappreciated modern marvels. Not only do our home plumbing systems help remove waste from our homes, but running water helps us to maintain our high standards of living, preventing the spread of sickness and disease among other things.
Your home's plumbing system begins at the connection between your home's water line and the main water supply line of your municipality. This line is split into two pipes, one responsible for carrying hot water and the other for carrying cold water. Wastewater exits the home through a sewer line or septic tank. Once in the sewer line, waste is then transported to your town's local treatment facility where it is processed and treated based on local, state and federal laws.
The main function of your home's plumbing system is to maintain a balance between water entering the home from the main water supply line and water exiting the home through the sewer or drain. The problem occurs when there is something interfering with or disrupting this balance. Tree roots, pipe cracks & leaks, or drain clogs are just some of the issues that can interfere with this delicate balance.
According to the Pittsburgh plumbing experts at Mister Sewer, the best way to prevent any problems with your home's plumbing and sewer line is to be proactive. Taking action at the first sign of problems can help homeowners save time & money on their home plumbing repairs and maintenance.
Understanding your home's plumbing system and how your drains work is the first step to quickly diagnosing and preventing any major plumbers in your system. Make sure you are well informed by checking out Mister Sewer's white paper, available at
http://mistersewer.com/company/happens-flush-mister-sewer/
.
Make sure your home's plumbing and sewer systems are running up to par by contacting the professional Pittsburgh plumbers at Mister Sewer. Using a simple three-step approach, the plumbers at Mister Sewer work to quickly diagnose your home's plumbing or sewer line problems, coming up with an efficient and affordable solution to keep the water in your home running smoothly. For more about what Mister Sewer can do for you, please visit
mistersewer.com
.