Stafford's Own Potomac Point Winery is awarded by Weddingwire and Washingtonian Bride & Groom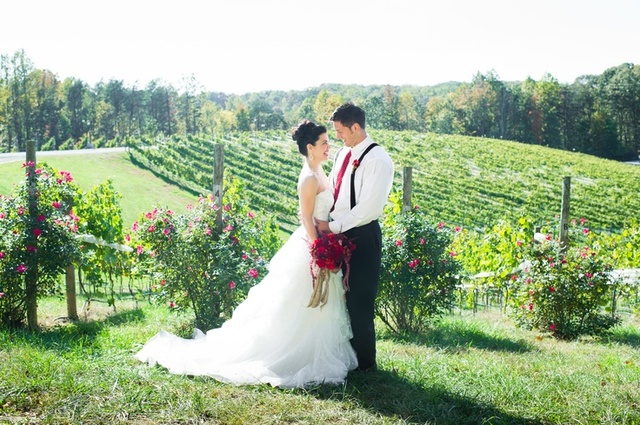 Stafford, VA – January 17, 2015 – WeddingWire, the nation's leading online wedding marketplace, named Potomac Point Winery as a winner of the prestigious WeddingWire Couples' Choice Awards® 2015 for Ceremony and Reception location in Stafford! The WeddingWire Couples' Choice Awards® 2015 recognizes the top five percent of wedding professionals in the WeddingWire Network who demonstrate excellence in quality, service, responsiveness and professionalism.
The esteemed awards are given to the top local wedding vendors in more than 20 service categories, from wedding venues to wedding photographers, based on their professional achievements from the previous year. While many industry award winners are selected by the host organization, the WeddingWire Couples' Choice Awards® winners are determined solely based on reviews from real newlyweds and their experiences working with Potomac Point Winery. Award-winning vendors are distinguished for the quality, quantity, consistency and timeliness of the reviews they have received from their past clients.
"It's always exciting to start the year by honoring the top-rated wedding professionals within the WeddingWire Network who represent more than two million reviews on our website," said Timothy Chi, CEO, WeddingWire. "Each of the businesses recognized are committed to quality, professionalism and all around top-notch service. We applaud Potomac Point Winery for their impressive achievements within the wedding industry."
The Washingtonian Bride & Groom Magazine has also recognized Potomac Point Winery & Vineyard as a "best wedding vendor" for 2015. Their Vendor Guide includes Potomac Point under the Special Reception Venues category; and can be seen in the winter 2015 edition. These vendors are hand selected by the Washingtonian Bride & Groom Editor & Staff; and this coveted listing is not something that can be purchased.
"The Guide includes the region's best bakers, dressmakers, photographers, event planners and more. Our curated guide to the area's top wedding vendors has it all. " says Kate Bennett, Editor-in-chief, Washingtonian Bride & Groom.
Potomac Point Winery is proud to be one of the top Ceremony & Reception locations in Northern Virginia. We would like to thank our past clients for taking the time to review our business. We value all of our clients and vendors and truly appreciate the positive feedback that helped us earn these coveted positions.
For more information about Potomac Point Winery, please visit our website today at
www.potomacpointwinery.com
About Potomac Point Winery: Since arriving on the Virginia wine scene in 2007 Potomac Point Winery has made quite a splash. Our Mediterranean estate will make you feel as if you've entered Tuscany, only to be up-scaled by our award winning wines. Only 45 minutes outside of Washington, DC we offer a variety of leisurely activities and events. With a selection of wine tastings, facility tours and a full bistro serving lunch and dinner, Potomac Point Vineyard and Winery is a destination in itself. If you are interested in booking a wedding or private event at our facility please call or email to schedule your personal site visit and consultation. Contact our Sales & Marketing Manager, Chelsea Sparaco by emailing
chelsea@potomacpointwinery.com
or calling 540-446-2250. Take a peek at our Pinterest page for more photos and inspiration.
Email Potomac Point Winery