New White Paper from Fitz All Blades Helps Customers Assess their Oscillating Tool Needs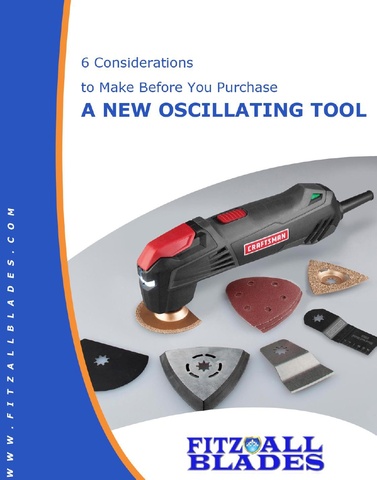 January 21, 2015 - Whether you're a professional craftsman or a household handyman, purchasing a new oscillating tool is a welcome addition to any toolkit. Make sure you know what to look for before your purchase by checking out the latest white paper from Fitz All Blades, "6 Considerations to Make Before Your Purchase a New Oscillating Tool."
An oscillating multi-tool is quickly becoming one of the most versatile tools available on the market. With a variety of oscillating tool blades and accessories available, it's no wonder that more and more people are discovering the benefits of owning one of these tools.
Before investing in a new oscillating multi-tool, it is important to realize that this tool shouldn't be limited to just one project need. Make sure you are getting the most out of your new purchase by branching out and using replacement oscillating tool blades and accessories to help you discover new, easier uses for your tool. Your new tool can help you complete a variety of projects with more precision and ease than ever before,
The team at Fitz All Blades suggests considering the kinds of blades and attachments you will need to help you complete your projects. While you can always invest in high-quality replacement blades at any time, knowing what to blades and accessories to start out with can help make the most out of your investment.
Another thing you may want to consider is how you plan on using your new tool. Thanks to new technology, many brands carry oscillating tools in both corded and cordless models. While a cordless model may provide more flexibility in its use, you must also consider how long you will be using your tool for as to avoid stopping work to recharge your tool's battery. Additionally, the tools size and weight will factor into how and where you can use your tool, so make sure to do plenty of research before settling on any one oscillating tool.
Depending on your project, you may need a variety of speed settings on your new oscillating tool to help you complete the job. While some oscillating tools allow for a more controlled speed adjustment, not all tools have this feature. You may want to consider a tool that has multiple speed settings as opposed to the normal two-speed settings available on most models.
One way to quickly narrow down the search for your new oscillating multi-tool is to look for a tool manufactured by a top-quality name brand that you trust. While tools from well-recognized name brands may cost more money, they generally prove to be a more valuable investment over time due to their quality and the selection of replacement blades and accessories available.
No matter what type of oscillating tool you choose, your new tool will bring ease and professionalism to almost any project you can think of. To get started on your search for a new oscillating multi-tool, check out the white paper from Fitz All Blades by visiting
http://www.fitzallblades.com/blog/oscillating-tool-white-paper/
.
After you've purchased your new oscillating tool, you'll want to make sure you have the right replacement blades and accessories to help you get the job done right. For high-quality replacement oscillating multi-tool blades from the top name brands available at a fraction of the cost, be sure to check out the selection from Fitz All Blades. Our blades fit some of the leading oscillating tools on the market, and come in a variety of styles to help you get the project done right. Learn more about how Fitz All Blades can help you reduce time, money and headaches on your next project by visiting
www.fitzallblades.com
.