Philip Pelusi Shares Its Guide to the Top Hairstyling Trends for the New Year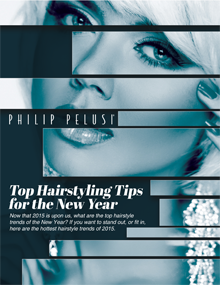 January 23, 2015 - For those of us who like to make "New Year, New Me" our mantra with each passing year, the professional hair stylists of Philip Pelusi salons have put together a guide on the "Top Hairstyling Tips for the New Year." From the latest styles and trends to the best in hair care products, a trip to your local professional hair salon is the best way to keep your hair looking healthy and fabulous all year long.
Whether you are looking to stand out from the norm or fit in with the pack, Philip Pelusi's hair stylists have a solution for you. Scheduling a professional hair stylist consultation will help you gain a better understanding of how your hair works, uncovering new styles and trends that will highlight your best features while masking some of your flaws.
From short to long, straight to wavy, and all else in between, working closely with a professional salon stylist is the best way to take your look to a new level. One of the best sources of inspiration for your new do is keeping up with the latest in celebrity fashions. Checking out the styles and looks of your favorite celebrities can help you come up with new ideas, colors and textures to experiment with.
So far in 2015, we are seeing a variety of hairstyles and trends emerging. Keep a lookout for shorter hairstyles to continue their ascension and boho waves to be the latest rage. Long, luxurious layers will rise in popularity, and the wet hair effect is expected to make a big splash on the red carpet.
No matter if you choose to go with the trends or stand out from the crowd, professional salon stylists can help transform your hair into a work of art. After your hair has been cut, colored, trimmed and styled, a stylist can recommend salon hair care products and styling gels that will help you maintain your hair's style and health in-between visits.
If you're looking for your next signature style, make sure you are up to date with the latest trends and tips in hair styling by checking out the white paper at
www.philippelusi.com/blog/top_hairstyling_tips_new_year/
.
For a style that is sure to impress, book your next hair appointment with one of the professional stylists at Philip Pelusi salons. Using innovative cutting techniques and their natural hair care products, the team at Philip Pelusi is truly "A Cut Above the Rest®." Whether you're looking to treat and repair damaged hair or just start the new year fresh with a new do, discover what the team of professional hair stylists at Philip Pelusi can do for you by visiting
www.philippelusi.com
.
Email Philip Pelusi Salons