Dr. Ary Krau Launches New Website for Miami Plastic Surgery Practice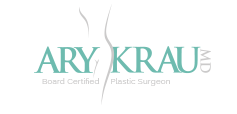 January 27, 2015 - Dr. Ary Krau, a well-known plastic surgeon with an established practice in Miami, FL, is pleased to announce the launch of his new website. The website has been redesigned to reflect his plastic surgery practice, a welcoming, technologically advanced surgical center that offers a wide range of aesthetic services. Dr. Krau is confident that his new website will help him provide individuals with top-quality service, even when they are away from the office.
As one of the best plastic surgeons in Miami, Dr. Ary Krau is skilled at a number of breast, body contouring and facial plastic surgery procedures. He details each of these procedures on his website, answering some of the most frequently asked questions that patients have, including "Who is a candidate?" "How long is the recovery process?" "What results can I expect?" and "How much does surgery cost?" Individuals can also view videos in which Dr. Krau discusses various techniques and trends in plastic surgery. By providing in-depth information on his website, Dr. Krau helps patients prepare for their consultation and understand all of their treatment options.
Patients who visit Dr. Krau's website can also learn more about his expertise as a surgeon. Website visitors can read about his education, training and professional experience, to come to understand why Dr. Krau is one of the most sought after plastic surgeons in Miami. They can also visit the "Our Office" section to get to know more about Dr. Krau's friendly, professional staff, or to view photos of his modern offices in South Florida.
One of the most popular sections of the new website is the before and after photo gallery, where Dr. Krau has displayed photos of real patients who he has treated over the years. This section can help prospective patients understand the plastic surgery results that are possible under Dr. Krau's care. And, seeing the beautiful, natural-looking results that Dr. Krau has achieved, patients will feel confident about scheduling their consultation to take the next step toward their aesthetic goals.
More about Dr. Ary Krau
Dr. Ary Krau is a board certified plastic surgeon with offices in Miami, FL. Dr. Krau is recognized internationally as a top breast, body contouring and facial plastic surgeon, and was one of five Miami plastic surgeons featured on the hit Bravo TV series, "Miami Slice," which offered an inside look at his state-of-the-art cosmetic surgery center. Dr. Krau is one of 35 cosmetic surgeons nationwide on the Mentor LEAD Program Advisory Board, which helps shape the future of cosmetic surgery techniques as well as breast augmentation products. He is committed to offering the very latest and safest procedures, which yield only the very best surgical results. To learn more about Dr. Krau, please visit his website
www.arykraumd.com
or schedule a consultation at his practice, call 305-861-6881.
Ary Krau, MD
1143 Kane Concourse
Bay Harbor Islands, FL 33154
305-861-6881
Email Ary Krau Plastic Surgery