NEO announced as one of the top 50 LMSs for 2015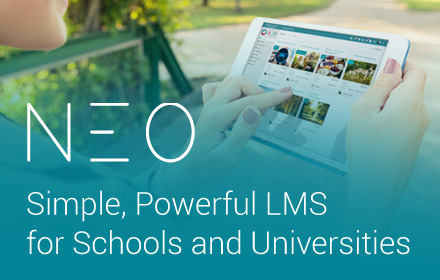 January 28, 2015 - NEO
, the simple, powerful LMS for schools and universities, was announced as one of the Top 50 LMSs for 2015 in the report "Top 50 LMS Rankings Report" written by Craig Weiss, the author of the Elearning 24/7 blog and well known e-learning industry analyst. The 2015 report follows the same criteria used in 2014, and was based on an analysis of 642 LMS vendors from around the world.
CEO Graham Glass said:
"We are honored to be recognized as one of the world's leading Learning Management Systems. NEO is constantly improving and its adoption has been accelerating, so we are looking forward to even greater success in the future."
NEO is typically chosen over its competitors for three reasons - its unusually beautiful user interface, its powerful feature set, and its remarkably affordable pricing.
NEO is definitely an LMS that stands out from the crowd. For example, one of the most recent NEO features is an innovative mobile app for iOS and Android that allows the full functionality of the site to be accessed rather than just a restricted subset.
The company also has an award-winning business version of their LMS called
MATRIX
for companies that want to provide online training.
The Top 50 LMS Rankings Report can be purchased here
http://elearning247.org/products/2015-top-50-lms-rankings-report
About NEO
NEO
is a simple, powerful, cloud-hosted LMS for individual teachers, schools, districts, and universities. The company was founded in 2006 by Graham Glass, the CEO of NEO and a serial entrepreneur with a track record of innovation. Graham is also the CEO of
MATRIX,
which provides a similar LMS for businesses.