Caye International Bank Announces Debut of the Caye International Bank Prepaid MasterCard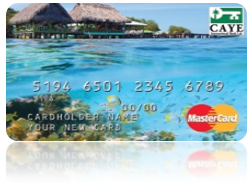 January 29, 2015 - Caye International Bank Ltd is pleased to announce the release of its Caye International Bank Prepaid MasterCard, a reloadable, interest-free offshore banking debit card available to all current and future Caye Bank account holders.
With ironclad security protocols and a host of user-friendly features, this card makes it easier than ever for Caye Bank customers to access funds held in their accounts and eliminates costly international wire transfers. The card is one of the many Caye Bank benefits available to customers in the U.S., Latin America and beyond.
The Caye International Bank Ltd Prepaid MasterCard has a number of powerful benefits, including 24/7 online access that allows users to check their balances and perform other functions from anywhere with an Internet connection. Around-the-clock live operator support and prompt email support to ensure that customers can address problems quickly and satisfactorily.
Transfers are convenient between cardholders, and the card grants access to thousands of ATMs, e-commerce portals and physical stores that belong to the MasterCard or Cirrus networks.
The Caye Bank Prepaid MasterCard is accepted at 24 million discrete locations around the world. There are never any interest charges for purchases made or balances held on the card.
To load funds onto this card, account holders can simply contact Caye International Bank Ltd to make arrangements.
Applying for the Caye International Bank Prepaid MasterCard is straightforward. Applicants must print and fill out the application which can be accessed through our website at
www.cayebank.bz
.
Once completed, the application can be scanned and emailed to
debitcardservices@cayebank.bz
with a color copy of the applicant's passport and a recent utility bill. Applicants may be contacted in the event that additional information or documentation is required.
Approved applicants typically receive their cards within five to eight business days. The card can be activated by phone as soon as it is received. For hands-on assistance, applicants may call +1-501-226-2388 and ask for the Card Services department during regular business hours.
For more information about the Caye Bank Prepaid MasterCard or any other products and services offered by Caye Bank, visit
www.cayebank.bz
.
Email Caye International Bank