Tudi Helps Customers Cut Costs on Wintertime Utility Bills with Latest Infographic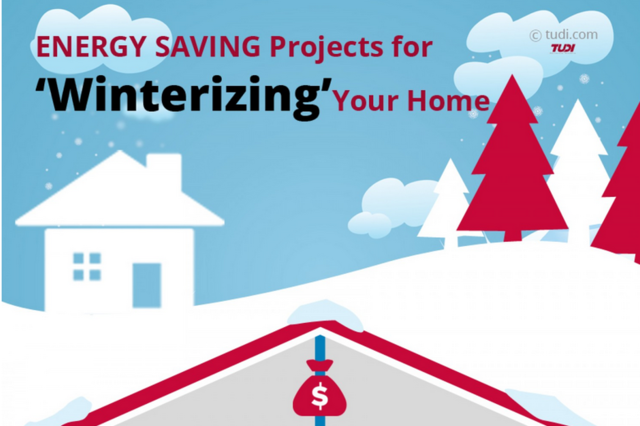 January 30, 2015 - Making your home warmer and more comfortable this winter doesn't require spending hundreds of dollars on your utility bills. Keep your home feeling cozy all year round with Tudi's tips on the top 'Energy Saving Projects for Winterizing Your Home.'
While many people may think of preparing for winter as a timely chore, there are many quick and easy solutions to keeping your home warm. Tudi's winterization tips can help drastically reduce your energy bill, and even qualify for tax credits in the process.
One of the most efficient ways to keep your home's utility costs at bay is to eliminate drafts throughout the home. According to the U.S. Department of Energy, anywhere from 5 to 30 percent of your home's energy is lost to drafts. Keeping drafts under control in your home is rather easy. Rolled towels or material scraps can be placed under doors, and caulk can be used around windows to help seal off the home and trap warm air inside.
Properly insulating your home can prevent cold air from entering and hot air escaping. If you replace the insulation in your home, you can be reimbursed with up to $1,500 in tax credits just for increasing the efficiency of your home.
Another quick fix to keep your home warm is to replace dirty furnace filters. Clean air filters will allow your furnace to operate at its maximum level of efficiency. If your furnace is old or outdated, consider replacing your furnace for a more modern Energy Star-certified model.
Cutting back on your wintertime energy costs can even be as easy as monitoring your usage. Turning down your home's thermostat to a lower setting can save you up to 3% per degree, and you can save even more when you install a programmable thermostat that allows you to automatically adjust the temperature for when people leave the house. Investing in an energy monitor and pinpointing the trouble areas throughout your home can help you cut back on wasted energy and save up to 20% on your monthly costs.
Small to major home improvements can help save you money and even help you collect up to $1,500 in tax benefits along the way. Get started prepping your home for the rest of winter and check out Tudi's infographic at
www.tudi.com/infographic-energy-saving-projects-winterize-home
.
Making sure your home's mechanical systems are running efficiently can help you keep your home comfortable and cozy all year long. Schedule your routine maintenance check with the Pittsburgh heating repair specialists at Tudi. Using the latest energy-saving technologies, a Tudi technician can help you cut back on your home's energy costs and improve the efficiency of your home. To learn more and get your free estimate, visit
www.tudi.com
.