MATRIX launches its mobile apps for iOS and Android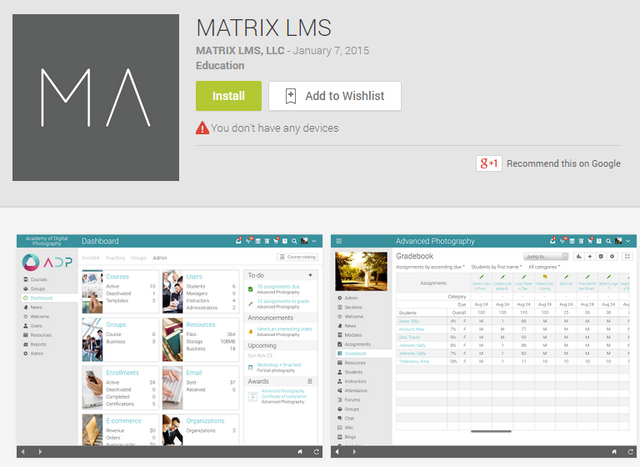 February 2, 2015 - MATRIX, the simple, powerful LMS for businesses, announced the launch of its mobile apps for iOS and Android.
The MATRIX mobile apps allow users to access the full feature set of the site rather than a restricted subset, and use a mobile variation of the beautiful MATRIX UI design. The mobile apps compliment the existing web-based apps that can be accessed from any mobile browser.
With the mobile apps, users can stay connected with their LMS anytime, anywhere, and have an engaging and productive learning experience. Instructors can create courses and assessments, sell courses using the e-commerce feature, collaborate with students, share resources, and track student progress. Students can easily attend courses, submit their assessments, and keep in touch with their instructors and friends.
Get the mobile app for Android on Google play
https://play.google.com/store/apps/details?id=com.matrixlms.app2.android
Get the mobile app for iOS from the App store
https://itunes.apple.com/us/app/matrix-lms/id955407963?ls=1&mt=8
MATRIX is a very popular LMS amongst businesses that want to deliver the best online training to their employees and customers. It has an attractive and easy to use interface, a responsive design, and provides the range of functionality you'd expect in a modern LMS, such as a customizable portal, support for courses, and integrated e-commerce functionality.
MATRIX was announced as one of the finalists for the Best of Elearning! Awards 2014 in the category "Best Learning Management System (Cloud/SaaS). Readers and professionals from both the private and public sector casted nominations for the best-in-class solutions across 27 product categories.
About MATRIX
MATRIX
is a simple, powerful LMS for businesses that makes it easy to deliver online training. The company was founded in 2010 by Graham Glass, the CEO of MATRIX and a serial entrepreneur with a track record of innovation. Graham is also the CEO of
NEO
, which provides an LMS for schools and universities.