NEO launches its mobile apps for iOS and Android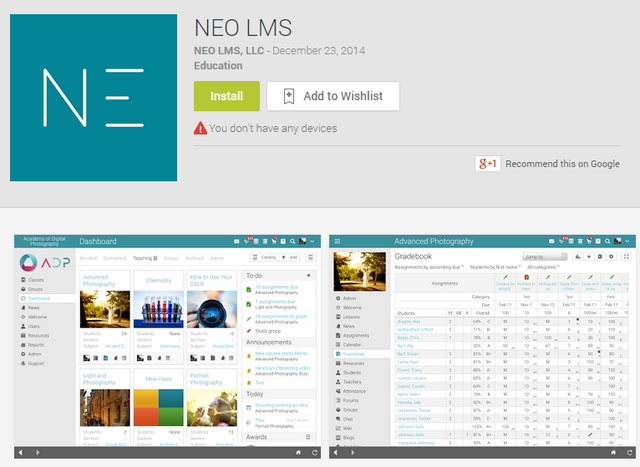 February 2, 2015 -
NEO
, the simple, powerful LMS for schools and universities, announced the launch of its mobile apps for iOS and Android.
The NEO mobile apps allow users to access the full feature set of the site rather than a restricted subset, and includes a mobile variation of its beautiful UI design. The mobile app compliments the existing web-based app that can be accessed from any mobile browser.
With the mobile apps, users can stay connected with their LMS anytime, anywhere, and have an engaging and productive learning experience. Teachers can create classes and assignments, collaborate with students, share resources, and track student progress. Students can easily attend classes, submit their assignments, and keep in touch with their teachers and friends.
Get the mobile app for Android on Google play
https://play.google.com/store/apps/details?id=com.edu20.NEOLMS&hl=en
Get the mobile app for iOS from the App store
https://itunes.apple.com/us/app/neo-lms/id955398297?ls=1&mt=8
NEO has grown over the years into a very popular cloud-hosted LMS for schools and universities. With a beautiful, intuitive user interface that keeps users engaged, and a comprehensive set of features that are valuable in the learning process, NEO is definitely an LMS that stands out from the crowd.
NEO was recently selected as one of the Top 50 LMSs for 2015 in the report "Top 50 LMS Rankings Report" written by Craig Weiss, which was based on an analysis of 642 LMS vendors from around the world.
About NEO
NEO
is a simple, powerful LMS for schools and universities that makes it easy to deliver online education. The company was founded in 2006 by Graham Glass, the CEO of NEO and a serial entrepreneur with a track record of innovation. Graham is also the CEO of
MATRIX
, which provides a similar LMS for businesses.