Callahead Brings the Palace of Versailles to New York and Stuns the Masses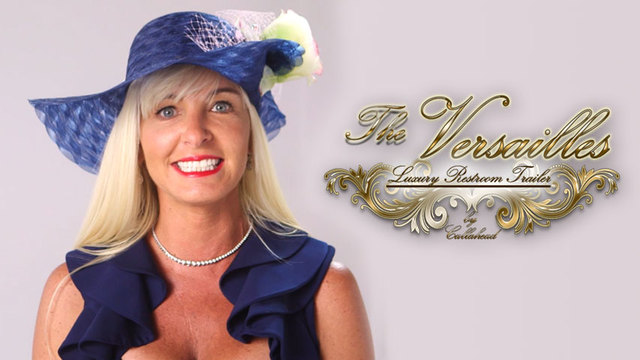 February 2, 2015 - Formal events are plentiful in the city of New York, yet there are very few portable bathroom facilities that can deliver the sophistication that these occasions require. CALLAHEAD, the industry's leading provider of luxury restroom trailers in New York, understands this need, and so they have designed a restroom trailer that brings opulence and grandeur to a whole new level.
In fact,
"The Versailles" luxury restroom trailer
was inspired by a trip to the actual Palace of Versailles by CALLAHEAD's CEO, Charles W. Howard and his wife, Kimberly. They were so taken aback by the stunning architecture and elaborate details of the chateau Mr. Howard knew he had to design a New York special event restroom trailer to emulate it for their fellow New Yorkers to enjoy.
When creating the Versailles luxury restroom trailer, no detail was spared to ensure that every guest will feel like a member of the royal family upon entry. Immediately you'll be amazed by the spectacular sky ceiling mural epitomizing the opulence of the restrooms setting. The abundance of brass accents, faux marble walls, egg and dart crown moldings and trim, wide-plank faux maple flooring and Calcutta marble countertops, the Versailles provides a true first-class experience. When guests use the Versailles during a wedding, corporate event, or black-tie affair, they will be surrounded by a level of elegance never before seen in portable bathroom trailer rentals anywhere else.
To complete the Louis XIV atmosphere in the luxury restroom trailer, CALLAHEAD hand selected gorgeous floral arrangements and awe-inspiring custom gilded framed artwork to perfectly match the Palace's splendor, and then displayed the artwork throughout the restroom trailer and inside each bathroom stall. Speaking of the bathroom stalls, the five in the women's facilities and the two in the men's facilities are both amazingly spacious and completely private. When using the Versailles restroom trailer, guests will feel like they have been transported to France-and they will certainly savor their restroom experience.
It's not just the designer details that make the Versailles the most extravagant New York special event restroom trailer rental in existence. Even the urinals are the finest available: They are waterless and odorless thanks to an advanced filtration system. The chrome Moen faucets allow for both hot and cold water and turn off automatically and the white porcelain toilets can be flushed with the push of a foot pedal. There is even a stocked candy dish so that guests can return to the event with complete confidence.
This restroom trailer is the perfect rental any time of year with its own thermostat controlled heating and air conditioning system. As another perk for your guests, it also has ceiling installed speakers and music system for everyone who uses the restroom to enjoy.
Of course, no royal palace restroom would be acceptable with any dirt or germs present, as with all of CALLAHEAD's equipment they use of only hospital grade disinfectants and cleaners so this is never a concern. All of their luxury restroom trailers in New York arrive at the event in like-new condition, and are ready to provide full services to hundreds of guests. For the ultimate experience, CALLAHEAD also offers the option of a professional uniformed restroom attendant to ensure perfection is upheld throughout the entire event.
While the Versailles luxury restroom trailer surely sounds impressive on paper, just like with most things, it must be seen to be truly appreciated. Luckily, CALLAHEAD offers a
video tour of 'The Versailles' Luxury Restroom Trailer
on their YouTube channel that is not to be missed.
A New York special even restroom trailer this extraordinary can only be found through CALLAHEAD. Since 1976 they have continued to amaze the residents of New York City, Long Island, and Westchester with their innovation and commitment to creating a homelike restroom experience on the go. To learn more about "The Versailles", or to explore the other luxury restroom trailers in New York, visit
www.CALLAHEAD.com
.