United Nations Official to Keynote May Ethics Conference at the Leeds School of Business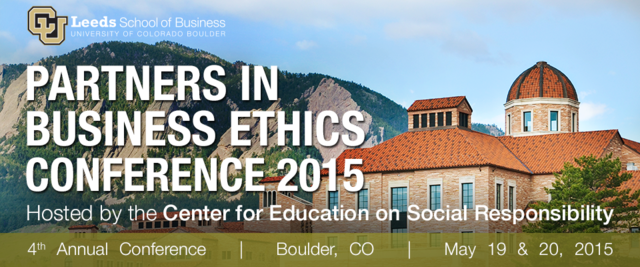 February 4, 2014 - The
Leeds School of Business
at the University of Colorado Boulder announced today that Jonas Haertle, head of the Principles for Responsible Management Education (PRME) Secretariat at the United Nations Global Compact Office, will keynote the 2015 Partners in Business Ethics (PBE) conference.
The Leeds School's
Center for Education on Social Responsibility
(CESR) will host the fourth annual Partners in Business Ethics conference May 19-20 in Boulder. The PBE conference brings deans from the world's leading business schools and corporate leaders together to address the vital need for ethics education and to create a working doctrine providing guidance to the education of future business leaders.
Corporate social responsibility
and
business ethics education
and curriculum are important issues for corporate leaders. Executives from leading brands consistently emphasize their importance in the workplace. Yet, these leaders are concerned that business schools are not graduating future employees with the depth of understanding nor educational experiences necessary to recognize and address complex ethical situations when they arise. Haertle will emphasize the need for companies and universities to come together to define and adapt curricula that best prepares graduates to lead the great companies they will ultimately join.
About PBE
The fourth annual PBE conference
provides one of the only opportunities available for corporate leaders to play a critical role in discussing and refining the business ethics education provided at top schools around the country. This event will break new ground for collaboration between business and academic leaders on curriculum development and delivery of ethics education in both academic and workplace settings.
PRME Background
The PRME Initiative
, which was launched at the 2007 UN Global Compact Leaders Summit in Geneva, assists business schools in the development of a principle-based global education platform for future business leaders.
About CESR
Founded in 2007, the Center for Education on Social Responsibility (CESR) advances the Leeds School of Business at the University of Colorado Boulder's commitment to preparing future leaders to confront social, environmental, economic and ethical challenges faced by modern business.
CESR infuses values exploration throughout the required curriculum at the undergraduate and MBA levels, and offers cutting-edge electives and social responsibility classes for further ethical development. CESR's faculty deliver courses that challenge students to develop critical ethical inquiry and evaluate business practices along environmental, social and ethical dimensions.
Contact:
Mark Meaney
Executive Director
mark.meaney@colorado.edu
303.492.3937
Email Center for Education on Social Responsibility, The Leeds School of Business, CU Boulder