Organic Mixology set to release its line of socially conscious, one tree planted for every bottle sold, liqueurs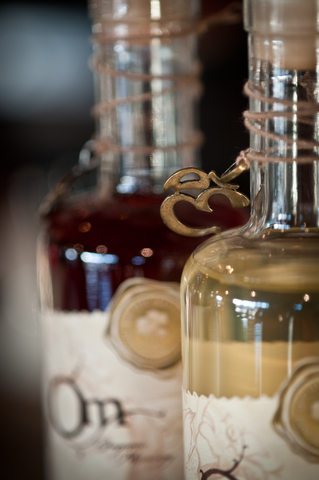 Los Angeles, CA (Feb 4, 2015) – Inspired by its line of popular bottled cocktails, OM Spirits is rolling out a line of liqueurs that have been carefully crafted for the on-premise trade by celebrated mixology consultant, Natalie Bovis. Organic Mixology is poured at a select number of top bars and luxury hotels in key markets across the country – Los Angeles, Las Vegas, and South Florida, with a New York launch coming this spring. These fine, organic liqueurs are made in Michigan and utilize a sugar cane vodka base. The blends include Coconut Lychee, Dark Chocolate Sea Salt, Cranberry Blood Orange, and Meyer Lemon Ginger with another flavor currently in development.
"By launching this line of liqueurs, we aim to provide bar professionals and home-entertaining enthusiasts the ability to create innovative, high quality cocktails, using unique flavor profiles that can be tricky to make from scratch, with regard to consistency and shelf stability," says OM Spirits co-founder Natalie Bovis, the cocktail book author, spirits educator and internationally-recognized mixologist, also known as The Liquid Muse.
"The on premise world is ripe for the introduction of a new classic liqueur" says CEO Jason Monkarsh, and the team at OM, a group of seasoned behind the scene liquor marketers, has set out to position OM to be in the well at some of the most upscale accounts in the country. "We're seeing a movement in the industry toward wanting to still be able to create interesting cocktails, without your staff needing to mix 15 different ingredients in order to do so" Mr. Monkarsh added. OM is perfectly positioned to fill this gap at 30 proof, with organic agave already blended in, and each sku containing a carefully crafted mix of two complementary flavors.
At Mon Ami Gabi at the Paris Hotel (one of the busiest bars on the Las Vegas Strip) Organic Mixology is featured in a refreshing cocktail called Le Fleur, which uses OM's Meyer Lemon Ginger, Bacardi Limon, St. Germain, and a splash of soda water. Kicking off its Las Vegas launch with the Rare Liquid Assets team at Southern Wine and Spirits, OM has gained impressive traction and is being sold at Whole Foods, Mon Ami Gabi, Palms, and has a number of key luxury accounts that will be incorporating OM in their summer poolside programs that can't be disclosed yet. OM will be offered as an ingredient in all wedding toast champagne cocktails at a major five-star Las Vegas strip property (to be announced in a separate press release.) OM also enhances flavor in 2 cocktails at the Four Seasons Hotel in Westlake Village, California and is served at Terranea Resort and Intercontinental Hotels in Los Angeles, as well as The Breakers in Palm Beach, FL.
OM refrains from adding preservatives and artificial flavors or colors to its liqueurs. Additionally, its packaging is extremely eco-friendly, from its reduced-glass bottle, to the labels printed at a carbon neutral facility, with 75% post-consumer recycled content shipping cases and a tree planted for every bottle sold through its partnership with Trees For the Future. OM is truly Mixology with a Mission!
Meyer Lemon & Ginger has a soft lemon flavor with minimal tartness and a kiss of ginger spice, lending itself to "play well" with brown spirits. Coconut & Lychee is delicate on the palate and offers a light coconut aroma and flavor, with a hint of lime, and a soft floral sweetness from the lychee, making it a no-brainer cocktail ingredient when mixed with rum. Dark Chocolate & Sea Salt is a non-creamy, lighter twist on the classic dessert cordials, and surprising perfection with tequila or mezcal. While Cranberry Blood Orange offers a tart cranberry burst, with back notes of blood orange making it the obvious choice in champagne cocktails, such as a Mimosa or fun twist on a French 75.
Lifestyle Editors/Bloggers: Experience recipes, earth-friendly party tips, and all things mixology at http://omspirits.com
Business Editors: We have partnered with Fundable.Com to expand our business. Learn more at http://fundable.com/organic-mixology
About Organic Mixology
Created by spirits branding and sales consultant Jason Monkarsh and celebrated mixologist and cocktail book author Natalie Bovis "The Liquid Muse." The pair originally teamed up in 2010 to launch a line of bottled organic cocktails after Jason experienced the difficulty in creating a mixology-style cocktail for his wife at home. They began tinkering with their formulas to create more on-premise friendly versions of their popular flavors. After trying them out on respected mixologists and bartenders in the industry they slowly began planting the seeds at a few key on-premise accounts, with the goal of fully launching their liqueur line for 2015. Continuing on their commitment to sustainability, the company will plant 1 tree for every bottle sold. The brand currently has distribution in Southern CA, Las Vegas, Miami, New Jersey, and Michigan, with a New York launch coming in spring.
About The Liquid Muse
Natalie Bovis, founder of TheLiquidMuse.com, and co-creator of Organic Mixology, is a spirits and bar consultant, educator and cocktail book author, with her latest "Edible Cocktails: Garden-To-Glass" listed on USA Today's "Top Ten Cookbooks" upon release in 2012. She teaches cocktail classes to consumers, nationwide, and sits on seminar panels at Tales of the Cocktail, Arizona Cocktail Week, Apres Ski Classic, WSWA, Portland Cocktail Week, Nightclub & Bar Show, and judges cocktail and spirits competitions around the world. She is also the co-founder of Mind, Body, Spirit(s) bartender balance seminars presented at cocktail events. Her signature cocktails have been featured at Playboy Mansion parties in Los Angeles, President Obama's 2013 Green Inaugural Ball in Washington DC, and everywhere in-between. Natalie proudly sits on the board of the USBG National Charity Foundation, and is the Vice President of USBG New Mexico. For nearly a decade, she has hosted cocktail segments on TV, radio and videos. See more at
TheLiquidMuse.com
.