American Comfort's One Hour Heating & AC now offering Aeroseal Duct Sealing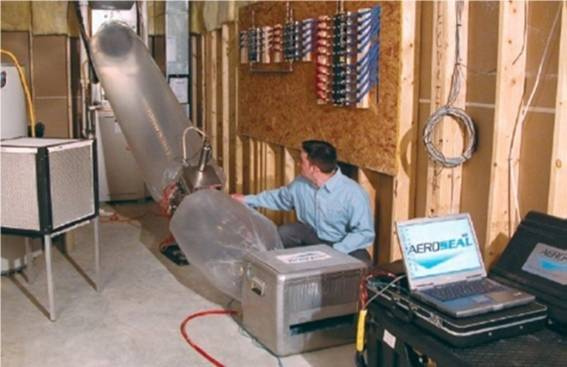 February 10, 2015 - American Comfort's One Hour Heating & Air Conditioning
g, Elk Grove Village IL, the
top rated
residential heating and cooling company in the Chicago region, is proud to announce it now offers Aeroseal Duct Sealing services. Aeroseal is one of the most effective and least expensive ways to improve energy efficiency, reduce home energy costs, and alleviate uneven temperatures throughout a home. This breakthrough technology, developed at Lawrence Berkeley National Laboratory, is 95% effective at sealing air duct leaks, a problem estimated to plague some 90% of homes and buildings in the U.S.
According to independent studies, most U.S. homes lose between 30% and 50% of heating and cooling air through leaks in the duct system. Aeroseal seals these leaks through a unique process that locates and seals leaks from the inside of the ductwork. The impact on reducing home energy loss is so significant that it has been rated the single most effective means for increasing energy efficiency in most homes today - about twice as effective as insulating basements and more than five times more effective than upgrading windows.
Before Aeroseal became available, leaky ducts could only be sealed using sealing tape or applying a compound directly to the exterior of the duct where each leak was located. In contrast, Aeroseal is applied as a non-toxic mist that travels throughout the interior of a home's entire duct system. The microscopic particles of sealant locate and collect around leaks until a permanent airtight seal is created.
"Think of it as a Fix-a-Flat for your heating and cooling system," said Bill Wykle, General Manager of American Comfort's One Hour. "The entire process usually takes just a few hours to complete and the results are immediate. We're excited to add Aeroseal to the expert and trustworthy HVAC services we offer our customers, many of whom have been with us for several decades."
Aeroseal customers tend to save an average of $600-$850 annually on energy costs, with a 2-3 year return on investment based upon home energy savings. In addition to improving energy efficiency, Aeroseal can help eliminate uneven heating - where some room are cooler than others - and improve Indoor Air Quality (IAQ), since healthy air is kept in the duct system, and unhealthy particles are kept out.
About Aeroseal Technology
First developed in 1994 by researchers at the Lawrence Berkeley National Laboratory and funded by the Environmental Protection Agency (EPA), The Department of Energy (DOE) and others,
Aeroseal technology
provides a highly effective method for sealing leaky ductwork in residential homes and commercial buildings. The Aeroseal process has proven to be the most effective, affordable and viable method of sealing leaky ductwork. More than 100,000 homes throughout the U.S. have been treated with Aeroseal.
About American Comfort's One Hour Heating and AC
American Comfort's One Hour Heating and Air Conditioning, based in Elk Grove Village IL, has the highest customer satisfaction ratings of any HVAC company in the Chicago region. We offer convenient service appointments seven days a week, with fast and trustworthy emergency repair service available 24 hours a day. Our great rates are the same whether day, night, weekend or on holidays. And our guarantees are the best in the heating and cooling industry, including "Always On-Time…Or You Don't Pay a Dime".
Email American Comfort's One Hour Heating & AC