LowestRates.ca Launches "#sharethelove" Contest Just in Time for Valentine's Day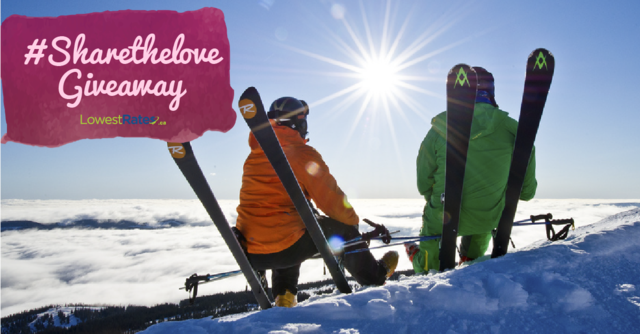 TORONTO, ONTARIO – (February 9th, 2015) – With Cupid fluttering about the land, LowestRates.ca is excited to announce that its #sharethelove contest starts today. Between Monday, February 9th and Friday, February 13th, Canadians are invited to complete the four steps of the #sharethelove contest for a chance to win over $1000 in Valentine-themed prizes, including a $200 spa gift certificate and a $600 gift certificate to FlightCentre.
"We wanted to show our appreciation to all of the Canadians who have been using our site to find the lowest rates on mortgages, insurance and credit cards. That's why we're giving away more than $1000 in prizes for our #sharethelove contest, just in time for Valentine's Day,"said Justin Thouin, CEO of LowestRates Inc.
To enter the contest, all Canadians have to do is visit the
#sharethelove contest page
and complete four simple steps:
Step 1: Enter your email address to register for the promotion on the
contest page
Step 2: Follow
LowestRates_ca on Twitter
Step 3: Like the
LowestRates.ca Facebook page
Step 4: Share the hashtag #sharethelove on Twitter
Contestants who have done one or more of the steps previously simply need to register by entering their email address and completing the steps they have yet to do.
The contest closes at 12:00 P.M. (noon) EST on Friday, February 13th and the prize winners will be randomly selected and contacted that afternoon before 5:00 P.M. EST.
The complete terms and conditions of the promotion can be found on the contest page.
"LowestRates.ca is all about saving time and money, but there are definitely occasions where it's OK to splurge. We're happy that the winners of these #sharethelove prizes will be able to deliver a little extra pampering to that "special someone" this Valentine's Day," said Thouin.
After Canadians have entered the #sharethelove contest at LowestRates.ca, they can explore some of the many ways to save money on their personal finance products on the site, including rock bottom mortgage rates from over 30 banks and brokers, all the best credit cards, and nationwide auto and home insurance comparison tools designed to bring users the lowest insurance rates available in their area in just 3 minutes.
About Lowest Rates Inc.
Based in Toronto, Canada, and founded in 2012, Lowest Rates Inc., through its websites
LowestRates.ca
and
LowestRates.com
, provides a free independent online service that helps consumers compare personal financial products offered by North America's leading financial institutions. Lowest Rates Inc. helps people save time and money by allowing them to compare offers on mortgages, insurance and credit cards all in one place. Lowest Rates Inc. strives to become North America's leader in providing consumers with the necessary tools and unbiased information they need to quickly and conveniently find the right personal financial products for their unique needs.
For more information visit LowestRates.ca and stay connected by following us on:
Twitter (@lowestrates_ca)
Facebook (
http://www.facebook/lowestrates
)
Our Blog (
http://www.lowestrates.ca/blog
).
Contact Information
Partnerships, Marketing, Media Inquiries:
Cliff Ritter, Co-Founder & Chief Marketing Officer
Corporate Affairs/Inquiries:
Justin Thouin, Co-Founder, President and CEO
justin@lowestrates.com</li>