Kurt Russell Headlines Santa Barbara Food & Wine Weekend Wine Dinner on April 18, 2015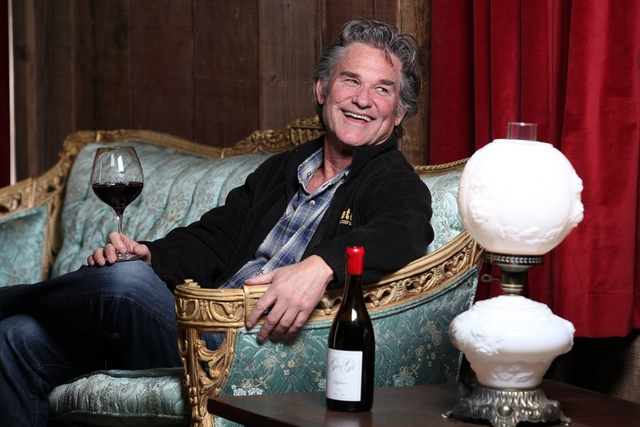 February 17, 2015 - The secret is out – Santa Barbara is a food and wine lover's paradise. So it's no wonder celebrated actors such as Kurt Russell have chosen the American Riviera as the home for their winemaking passion.
"After tasting pinots from around the world, my personal belief is that the Santa Rita Hills area is, other than Burgundy, the best place to make pinot noir," said Kurt Russell.
Russell, along with his daughter and actress Kate Hudson and musician Matt Bellamy, have partnered with Winemakers Peter and Rebecca Work, proprietors of Ampelos Cellars, to produce GoGi Wines and Hudson Bellamy Wines in the renowned Sta. Rita Hills AVA in Santa Barbara County. The Wine Saloon at the historic 1880 Union Hotel in Los Alamos, located 45 miles from downtown Santa Barbara, exclusively features all three labels.
Wine aficionados (and Russell fans) will have the rare opportunity to hear directly from Kurt about the stories which inspired his wines at the 2nd Annual Santa Barbara Food & Wine Weekend's Grand Wine Dinner on April 18 at Bacara Resort & Spa. Now in its second year, the Weekend is produced by Bacara Resort & Spa together with The Julia Child Foundation for Gastronomy and the Culinary Arts. The weekend's proceeds benefit The Foundation.
"Santa Barbara has always been recognized for our beautiful beaches, but it's our culinary community that is now drawing national acclaim," said Kathleen Cochran, general manager of Bacara Resort & Spa. "This weekend is designed to showcase all that makes Santa Barbara County's food and wine so unique, so it's only fitting that Kurt is joining the celebration."
The Grand Wine Dinner with Kurt Russell will begin with a reception featuring live music, hors d'oeuvres and two Hudson Bellamy wines: Hudson Bellamy 2013 Rose of Syrah "Que Syrah Syrah" and Hudson Bellamy 2013 Sauvignon Blanc "A Little Time."
A four-course "Ranch to Table" sit-down dinner will follow the reception. The menu will showcase the region's best locally-sourced meat and produce, handcrafted by Bacara's award-winning culinary team. Each course will star Russell's personally selected wine pairings, including: GoGi Viognier 2013 "LuLu;" GoGi Chardonnay 2012 "Goldie;" GoGi Pinot Noir 2011 "Angelbaby;" and Ampelos Syrah 2010 "Gamma."
Bacara's Creative Director Lorrene Balzani will transform the resort's grand ballroom into a rustic, old west atmosphere inspired by The Wine Saloon. "Our goal is to create an intimate and informal space that reflects Kurt's approachable and fun-loving style," said Cochran. "We want the evening to feel like a large gathering among friends, old and new."
The Grand Wine Dinner with Kurt Russell takes places on Saturday, April 18 from 6:30 to 9:30 p.m. at Bacara. Tickets are available for $199, plus tax and gratuity, and can be purchased online at
www.BacaraCulinaryWeekend.com
.
Russell joins an all-star lineup of 25 other events happening over April 16-19 at the Santa Barbara Food & Wine Weekend. Now themed: Savoring the Past, Cultivating the Future, additional weekend highlights include:
Santa Barbara County Vintners' Association wine tasting reception and video tribute to the late Julia Child, a Montecito resident, presented by her former producer and director, Geoffrey Drummond and baking guru/author Dorie Greenspan, who collaborated on the multi-award winning Baking with Julia TV series and cookbook.
Educational lunch with Los Angeles power couple and celebrity chefs, Suzanne Goin (Lucques, AOC & Tavern) and David Lentz, chef/owner of Santa Barbara's The Hungry Cat
Cooking classes with famed chefs and cookbook authors, including Jim Dodge, Anne Willan and Virginia Willis
Neighborhood Tasting & Market that explores Santa Barbara's top up-and-coming food regions, including Los Alamos, Arts District and the Funk Zone
Screening of A Year in Champagne in the resort's 211-seat movie theater paired with a glass of champagne and local chocolate tasting
Curator from the Smithsonian's National Museum of American History discussing all about "Julia Child's Kitchen," the museum's most visited exhibit
All events are inspired by Julia's lifelong passion for learning, love of eating well and mission to further gastronomy. They are designed to marry entertainment and inspiration, celebration with learning.
"The Foundation is delighted to continue to foster Julia Child's legacy and our connection to Santa Barbara with Bacara Resort & Spa's support. Last year's inaugural event embodied everything we had hoped it would, capturing what Julia loved about enjoying the best and latest in food, wine and cooking and what makes Santa Barbara such a special destination. We are delighted to have Kurt Russell and so many other top people in food & wine join us this year to share their passion. We hope to see many more Santa Barbarans join those from around the country at this year's expanded and exciting weekend." – said Todd Schulkin, Executive Director, The Julia Child Foundation for Gastronomy and the Culinary Arts.
Tickets for all events are now available at
www.BacaraCulinaryWeekend.com
. Advanced reservations are recommended as events do sell out but same day tickets will be available for select events with greater capacity such as the Neighborhood Tour. Bacara Resort is offering a room package which includes a two-night stay over the event, two All Access VIP Passes (a $1,400 value) and valet parking from $1,010 a night.
For tickets and a complete list of events and more information about the Santa Barbara Food & Wine Weekend, please visit
www.BacaraCulinaryWeekend.com
.
About Bacara Resort & Spa:
Bacara Resort & Spa opened in 2000 and quickly established itself as the premier Santa Barbara resort destination. The property features 360 guestrooms and suites, four restaurants and lounges, a four- story spa and wellness center, three oceanfront swimming pools, a 12,000-bottle Wine Cellar, the Foley Food & Wine Society Wine Tasting Room and 70,000 square feet of function space. Embodying the essence of the American Riviera lifestyle, Bacara is nestled on the bluff and beaches of the Gaviota coast, just 40 miles from the famed Santa Ynez Wine Country and five miles from the Santa Barbara Airport. For reservations or more information, please call (855) 817-9782 or visit
www.bacararesort.com
.
About The Julia Child Foundation
The Julia Child Foundation for Gastronomy and the Culinary Arts was created by Julia in 1995 to continue to advance matters she valued. The Foundation's mission is to honor and further Julia's legacy, which centers on the importance of understanding where food comes from, what makes for good food, and the value of cooking. Headquartered in Santa Barbara, California, the Foundation is a grant-making, non-profit which primarily funds research and scholarships for professional culinary training as well as other activities in the fields of gastronomy and the culinary arts. Through the organizations and programs it supports, the Foundation continues to foster Julia's lifelong love of learning, her far-reaching impact as a teacher and mentor, and her passion for gastronomy and the culinary arts. For more information about the Foundation, please visit:
www.juliachildfoundation.org
.
About GoGi Wines
GoGi Wines are the boutique, small lot production of film actor and wine producer, Kurt Russell. After falling in love with the world renowned Sta. Rita Hills AVA, Russell decided to follow his passion and start producing his own wines. From harvest to punch downs, bottling line to waxing bottle tops, Kurt is hands-on. Working in the Ampelos vineyard and winery for several years, Kurt has graduated from "Cellar Rat" to "Apprentice Winemaker." Russell personally selects his barrels and blends his exquisite Pinot Noir, striving to produce elegant, well balanced and delicious wines for people's enjoyment. Raise a glass and learn more at
www.gogiwines.com
.
Email Bacara Resort & Spa