The Ellis Hotel Helps Business Travelers Better Plan Meetings with Their Newest White Paper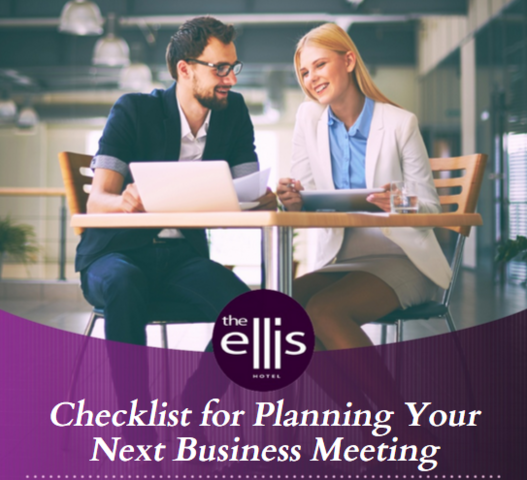 February 17, 2015 - The Ellis Hotel looks to help event planners and business representatives cut down on their paperwork and event planning process by publishing their latest white paper, "Checklist for Planning Your Next Business Meeting."
The Ellis Hotel's informative checklist provides business event planners with a step-by-step guide on how to properly plan their next business event to make sure it goes off without a hitch. Arranging your business meeting at a local hotel is one way to guarantee that your day is flawless from start to finish.
The first step to planning any corporate event or meeting is to establish your ideal event dates. Be sure to have your dates selected months in advance for best availability of that hotel's meeting rooms.
The venue you choose will play a big role in the success and the overall experience of your event. Planning a hotel business meeting ensures that your guests will be treated to the best amenities and luxury accommodations for the duration of their stay. When choosing where to host your event, consider a boutique hotel located in a downtown area where guests can take advantage of convenient access to area attractions and popular restaurants.
Whenever you are planning a business meeting or conference for your company, it is crucial that you have a budget in place well before the finer details of the planning process begins. Don't forget to include some of the secondary costs of your event, including marketing and staffing costs that your conference may require.
Once your budget is set, you can then begin to create an agenda for your event. Having an agenda to your conference will help define a clear purpose and goal. An agenda not only helps you out during the planning process, but will also work to entice employees and other industry attendees to come to your event. If you are really looking to draw the attention of your industry, make sure to organize your event with relevant speakers and researchers to help add some incentive to attending your event.
Once you have the finer details of your event laid out, you should move onto the bigger details. Making your event open for online registration to allow guests to easily book their hotel accommodations and register for your event. Furthermore, you should make sure the attendees of your event have clear signage to help guide them throughout the conference.
No matter if you're planning a large-scale corporate banquet or a smaller business gathering, make sure you are prepared for your event by downloading the white paper from the Ellis Hotel available at
http://blog.ellishotel.com/checklist-planning-next-business-meeting-whitepaper/
.
If you are looking to plan your corporate event in Atlanta, look no further than the Atlanta meeting spaces and conference rooms at the Ellis Hotel. Equipped with all the latest in state-of-the-art technology, the meeting rooms at the Ellis Hotel can help your event stand out like no other. Plus, your guests will be able to take advantage of luxury boutique hotel accommodations in the heart of downtown Atlanta. Check out all that the Ellis Hotel has to offer by visiting
www.ellishotel.com
.