Local Accounting Firm Helps Clients Make Sense of NIIT and Healthcare Cost Reporting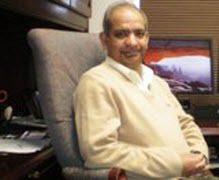 March 3, 2015 - Montgomery Village, MD
– Adil Baloch, CPA and founder of Accurate Records and Tax Services, assists clients in getting personalized tax and accounting services that explain complicated processes.
Accurate Records and Tax Services provides business and individual clients in their community with tax preparation assistance and
small business accounting
, along with other essential financial services. In order to help clients better understand more complex parts of the tax and accounting processes, Adil A. Baloch, firm founder, offers assistance with NIIT and health care cost reporting.
"The tax and accounting process is already complicated for many individuals and businesses," Adil states. "Add new tax provisions and special accounting guidelines to that and matters become even more difficult. We are glad to explain how NIIT affects our tax payers and how home health care companies can adhere to proper guidelines for Medicare cost reporting."
NIIT, or net investment income tax, is a tax provision that went into effect on 2013 and changes investment tax amounts for individuals and families who have an adjusted gross income over a certain dollar mark. Adil explains, "We help tax payers in our community figure out if they're responsible for paying this tax in order to stay in the IRS' good graces."
Accurate Records and Tax Services also helps businesses in the home health care niche get cost reports that defend their position for funding from Medicare. Generating cost reports isn't always easy, which is why Adil and his team are happy to help home health professionals get the reporting that Medicare needs.
Adil adds, "Our goal is to help our clients remain tax compliant and to find accounting solutions that work for them. With guidance on Medicare cost reporting and NIIT, clients in our area get access to more of the help they need."
About Accurate Records and Tax Services and Adil A. Baloch, CPA
Adil has over 12 years of experience in the accounting industry. Prior to starting his firm, he worked for several organizations in different industries, holding progressively more responsible positions. His experience includes: Accounting, Auditing, Tax Planning,
Tax Preparation
, Budgeting, Finance, Business Process Engineering and Accounting Systems Implementation and Maintenance.
For more information about tax and accounting, visit the website at
aabcpa.com
.
Email Accurate Records and Tax Services