Frontline Source Group Achieves 2015 Best of Staffing® Award for Both Client and Candidate Satisfaction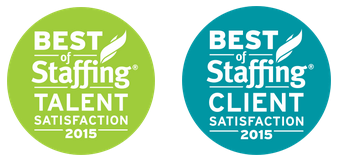 February 19, 2015 –
Frontline Source Group, a leading temporary staffing and direct hire firm, announced today they have won Inavero's Best of Staffing Client® and Talent Awards for providing superior service to their clients and job seekers. Presented in partnership with CareerBuilder, Inavero's Best of Staffing winners have proven to be industry leaders in service quality based completely on the ratings given to them by their clients and their temporary and direct hire employees. With client and talent satisfaction scores more than three times larger than the industry average, award winners make up less than two percent of all staffing agencies in the U.S. and Canada who earned the Best of Staffing Award for service excellence.
"It has always been our goal to differentiate ourselves and not be your standard staffing agency," said Bill Kasko, Frontline Source Group's President and CEO. "I am extremely proud of my team, as this is a direct reflection of their efforts to provide excellent customer service and help candidates take the next step in their career. We are extremely honored to have achieved this recognition from Inavero and CareerBuilder and look forward to continuing to strive in our industry."
Staffing firms nationwide competing to make the Best of Staffing list underwent a rigorous survey process with both clients and candidates, followed by careful analysis of responses to determine satisfaction levels. "With a tightening labor market and a need for growing companies to stay flexible, staffing agencies are placing more people into employment opportunities than at any other point in U.S. history," said Inavero's CEO, Eric Gregg. "More companies and job seekers than ever before need a staffing agency with a proven commitment to service excellence."
About Frontline Source Group
Frontline Source Group
specializes in matching top talented professional candidates with companies for temporary, temp to hire and direct hire placement positions primarily in the Accounting, Finance, Information Technology, Administrative, Customer Service, Human Resources, Engineering, and Oil & Gas industries.
Current Office Locations include, Texas: Dallas, Fort Worth, Arlington, Lewisville, Austin, Plano, Houston, West Houston, San Antonio, Sugar Land, The Woodlands; Tennessee: Nashville, Brentwood; Oklahoma: Oklahoma City; Colorado: Denver; Arizona: Phoenix, Scottsdale. Upcoming Locations: Chicago, Illinois
About Inavero
Inavero
administers more staffing agency client and talent satisfaction surveys than any other firm in the world. Inavero's team reports on over 1.2 million satisfaction surveys from staffing agency clients and talent each year and the company serves as the American Staffing Association's exclusive service quality partner.
About Inavero's Best of Staffing
Inavero's
Best of Staffing®
Award is the only award in the U.S. and Canada that recognizes staffing agencies that have proven superior service quality completely on the ratings given to them by their clients and job candidates.
Email Frontline Source Group, Inc.