CMO Axis wins the 'Excellence and Leadership in Outsourcing Award' at the Asia BPO Summit 2015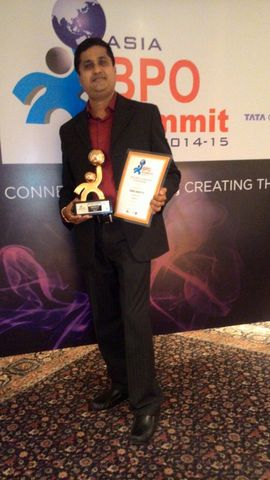 Mumbai February 19, 2015: CMO Axis, the pioneer in Sales and Marketing Process Outsourcing, won the 'Excellence and Leadership in Outsourcing Award' at the Asia BPO Summit 2015 that took place at Taj Lands End, Mumbai on the 13th of February 2015. CMO Axis is a sales and marketing process outsourcing company that has been providing strategic advisory, shared services delivery and business-results focused marketing outsourcing solutions to global organizations since 2008. TCS, HP and FIS were some of the other leading organizations awarded under this category this year.
Asia BPO Summit is an exclusive event conducted annually for top BPO / ITO service providers and organizations looking for sourcing opportunities. The summit facilitates the meeting of prospects, expert talks on industry best practices and edifying discussions between leaders in the BPO industry. The BPO Excellence Awards, organized by Asian Federation of Business, and endorsed by Stars of the Industry Group in association with World HRD Congress and CMO Asia, rewards organizations for their achievements in the field of Business Process Outsourcing. Last year, the organizations recognized for their excellence and awarded were PITON-Global, Inc., Matryzel Consulting, Inc. and PricewaterhouseCoopers LLP.
Expressing his delight on receiving this prestigious award, Vinod Harith, the CMO and co-founder of CMO Axis said, "This is indeed an immense honor and we are extremely proud to have won this excellence award from the Asia BPO Summit. I truly believe that this is a great validation for our pioneering business model and the significant opportunity that MPO holds as the next generation in business process outsourcing."
About CMO Axis: CMO Axis is the first Marketing Process Outsourcing company (MPO) that is pioneering a new generation of strategic sourcing solutions around the marketing function where they support, augment or help outsource parts of the marketing function. Their services range from service desks supporting content marketing, design, web and digital marketing, demand generation and inbound marketing to strategic interventions like go-to-market for new products and services, new markets entry and management of new or existing business and revenue channels.
CMO Axis is ranked among the global top 10 Sales and Marketing Outsourcing (SMO) providers by the Datamonitor's 'Black Book of Outsourcing', is a Nasscom Emerge 50 company, a TiE startup of the year, an India SME 100 company and one of the best startups to work for in the Silicon India 'best companies to work for' rankings.
For more information about CMO Axis services,
please visit
http://cmoaxis.com
http://cmoaxis.com/AsiaBPOSummit2015
Email CMO Axis Outsourcing Services P Ltd