Natural-Looking French lace Hair System for Men Now Available at Confident Hair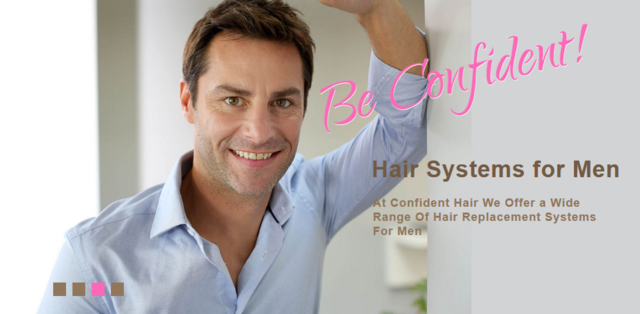 Toronto, ON February 20, 2015 – At Confident Hair, we believe Hair is the root of our identity. A well tamed mane makes us feel like a thousand dollars. We help give dignity and confidence to men who feel self conscious about losing their hair. We offer a wide variety of hair replacement systems for men.
While many men with thinning hairlines consider hair transplants, few look at hair systems. Not only are hair transplants expensive, you might not be a suitable candidate. Our hair systems are your next best option. Not only do you avoid going under the knife, our hair systems are a lot more affordable. Margaret D'Urso-Gosas (Owner of Confident Hair Inc.) said, "
Our hair replacement system does everything but grow.
"
The French lace hair system for men is our high-quality you'll be proud to wear. Our hair systems are made of only the best: 100% virgin European
human hair wig
. Our hair systems are top-notch – your co-workers, friends, partner or wife won't be able to tell the difference. Your confidence will return in the boardroom and the bedroom.
We offer many
hair replacement systems
you can choose from. If you're looking for something a little more durable we offer traditional hair system, lace front hair system and full lace hair system. With a 1 inch pu coating all around the base. Our hair professionals will sit down with you for a one-on-one consultation to find the option that's right for you.
About ConfidentHair.com
Confident Hair is a Toronto-based, full service, hair replacement salon with more than 30 years' family experience in the hair care industry. We are dedicated to helping men and women look and feel their best. At Confident Hair we take pride in finding a hair replacement solution that is right for you. For more information please visit
ConfidentHair.com
Email Confident Hair Inc.