DoubleTree Ocean Point Resort & Spa Looks to Help Travelers Plan their Miami Vacation with Useful Infographic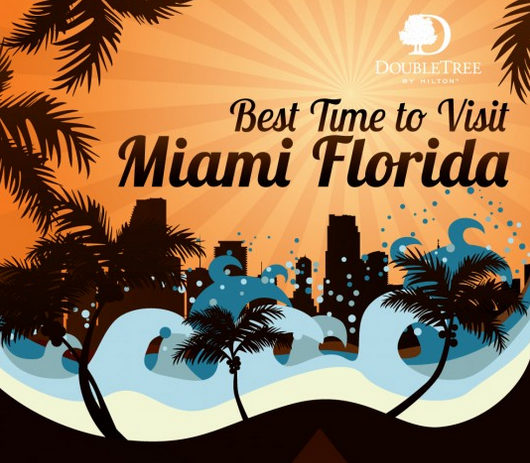 With its year-round sunshine, miles of oceanfront beaches and energetic atmosphere, it's no wonder that so many tourists plan to visit Miami on their vacations each year. Whether you are about to plan your first trip to largest metropolitan area in the Sunshine State, or try to visit as often as possible, be sure to check out the latest infographic from the DoubleTree Ocean Point Resort & Spa before booking your next trip!
While there is tons to see and do no matter when you plan your trip to Miami, travelers can make the most of their experience by understanding Miami's three main travel seasons and what they mean for guests to the city. Each season has its own unique set of advantages, events, and highlights for travelers to take advantage of.
For travelers looking to take advantage of lower than average airfare and hotel rates, low season is the premier time to travel to cut back on the cost of your vacation. Taking place between June and September each year, the Miami Bach area experiences temperatures that typically soar above 90°. Furthermore, these months mark the peak of tropical storm and hurricane season for the city.
However, if you can withstand the heat and are willing to take a gamble on your travels, many of Miami's top attractions and beaches are much less crowded than at other times throughout the year, giving you the chance to experience all that the city has to offer. If you do travel during Miami's low season, be sure to bring along plenty of sunscreen and your swimsuit to cool off!
On the opposite end of the travel spectrum is Miami's Peak Season. Taking place during the mid-late months of Winter, Peak season brings out both the city's and nation's elite as they head to the beaches to see and be seen by tourists from all over the country. While some may find that Miami's Peak Season is a bit too crowded for their taste, others seem to thrive in the city's energetic and lively atmosphere.
Carnaval & Calle Ocho, Miami's Fashion Week, the Ultra Music Festival and Spring Break draw thousands of tourists to the city each year. For travelers looking to experience Miami's famous nightlife hotspots and party atmosphere, this is the best time to travel.
Nestled in-between Miami's Low and Peak seasons comes the city's Shoulder Season. Beginning in the fall and moving into the early winter months, temperatures in the city reach a pleasant 80° average, making it perfect for travelers who are looking to get out and explore the city as much as possible without battling the hot weather, tropical rains or crowded attractions.
If you're an art lover, then Miami's Shoulder Season may be the best time for you to visit the city. Miami's Broadway Series, the Miami Book Fair International and Art Basel all take place during this season. Make sure to book your Miami Beach accommodations early if you are looking to attend any of these events, as many hotels offer special packages and discounts for event attendees!
For more information on when to plan your trip, make sure to check out the infographic from the DoubleTree Ocean Point Resort & Spa by visiting
www.oceanpointresort.com/infographic-best-time-visit-miami-florida/
.
No matter when you choose to visit, the DoubleTree Ocean Point Resort & Spa is proud to offer the best luxury accommodations that Miami Beach has to offer. From its private oceanfront beach to its luxury amenities, the Miami Beach accommodations at the DoubleTree Ocean Point Resort & Spa is the ideal way to kick back and relax on your next vacation. Book your room today and take advantage of our year-round Miami resort packages by visiting
www.oceanpointresort.com
.
Email DoubleTree Ocean Point Resort & Spa