Versatex Releases Tips on How to Replace Rotting Wooden Trim with Durable PVC Trim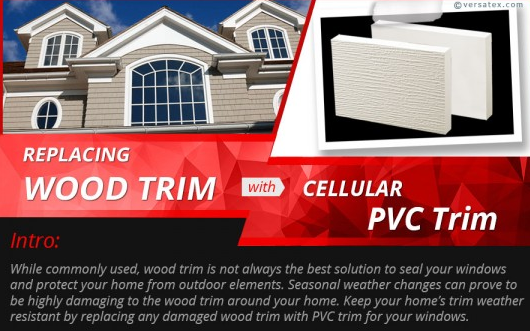 February 21, 2015 - If you're a professional contractor, architect or builder, odds are you are well aware that wood trim is not always the best solution to seal off windows or other areas of the home. More and more builders are beginning to recognize the benefits of the more durable PVC trim. Get started replacing the rotting wood trim around the home with help from the step-by-step guide from Versatex.
Seasonal changes and insect infestation can prove to be highly damaging to wooden trim used around the home. One of the best ways to keep your home protected from outdoor elements is to replace any wooden trim around the home with cellular PVC trim. PVC trim is a much more durable solution, resistant to damage from weather, termites and other common outdoor hazards.
To get started replacing the wood trim around the home, you will need to make sure that you have the right tools for the job. Begin by using a utility knife to cut the caulk seal between the trim and siding, and then using a flat pry bar to help separate the trim from the home's siding. After that, you will want to be sure to remove any leftover nails or damaged area of siding using a basic hammer and chisel.
The next step is to cut your PVC trim to the proper size and position it into place. When working on replacing the trim around a window, start first with the windowsill and move up until you have all the sides and the header attached. A PVC Cement can be used to join any two pieces of PVC trim board together.
While you don't need to paint your PVC trim, if you do choose to paint your finished product, you will want to make sure you use a 'sandable' product to fill-in any holes or gaps in the trim. After allowing 24-hours to dry, you may then sand your trim to a smooth finish and begin the painting process.
If you are looking to replace any rotting wood trim around the home, make sure you are prepared by checking out Versatex's infographic at
http://versatex.com/blog/2015/02/infographic-replacing-wood-trim-with
.
For all your home construction project needs, turn to the expert advice and technical assistance from the PVC trim board experts at Versatex. For years, Versatex has built a reputation for being an industry leader in all things PVC. Discover how builders and contractors from across the country are using Versatex products to enhance their home construction projects by visiting
versatex.com
.