Agents for Less Connects Buyers and Sellers with Discount Real Estate Agents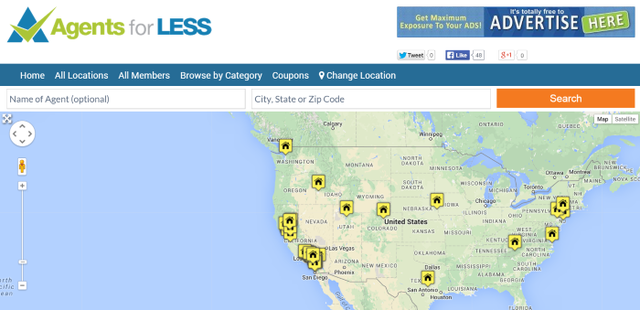 Los Angeles, CA – February 22, 2015 – Agents for Less, a California-based online real estate directory showcasing real estate professionals offering consumer incentives such as
real estate rebates
, reduced commissions and flat fees has been recently redesigned. The new geolocation capabilities automatically display members on a large map based on the website user's location. This makes it super easy for home buyers and sellers find
discount real estate agents
by location.
"Our free agent finder service is designed to help consumers particularly home buyers and sellers save on real estate commissions and fees when it's time to buy or sell a property," said Michael Del Rosario, Founder of Agents for Less website." "And if you're a real estate professional, Agents for Less offers free trial memberships where you can advertise your real estate services, business model and generous client incentives at no charge. We do not charge for real estate leads and referrals. In addition, your membership includes an advanced coupon generator with viral features."
The site's new coupon generator enables members to create and use
real estate coupons
which can be easily shared on social networks. The real estate coupon generator is included with the site's affordable monthly and yearly membership plans.
About Agents for Less
Agents for Less is a location-based directory of discount real estate brokers and agents offering consumer incentives such as home buyer rebates, discounted real estate commissions and flat listing fees.
For more information on Agents for Less, visit their website at
www.agentsforless.com
.