G6 Sports Survey Discovers that Over ¾ of Americans Are Not Working Out Enough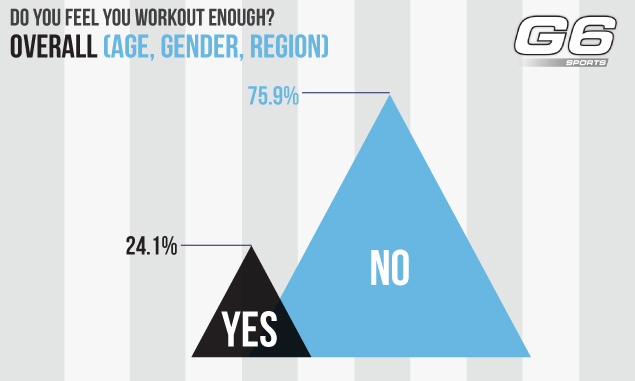 February 24, 2015 - Our nation's health continues to be a leading discussion topic as we head into the rest of the new year. In a recent survey, G6 Sports has learned that slightly over 75% of Americans feel they do not work out enough or as often as they should.
Working out is a crucial part of a healthy lifestyle, promoting both physical and mental health. Following a strict workout routine and making sure your body is getting the proper fuel is the most important part of leading a healthier lifestyle.
Exploring the survey more in-depth, the team at G6 Sports was able to determine that workout tendencies seem to become worse with age, peaking with adults ages 45 – 54. Most people feel that there just isn't enough time in the day to fit in a daily workout. Finding time in between their work schedules, family lives, responsibilities and priorities is just too much for most of us. However, if we're serious about getting healthy, taking the time each day to workout, even the slightest bit, can make all the difference in our overall health.
Another factor that seemed to contribute to the responses was a respondent's gender. Nearly 73% of all men felt they were not working out enough, while almost 80% of women felt the same. Recent studies have shown that the majority of woman have a desire to exercise, but hate going to the gym out of fear of being judged by others around them.
Another reason for the discrepancy is that women may be less motivated to go to the gym. While most men possess some sense of motivation to get "buff" and build larger muscle mass, women lack the same sense of motivation. Regardless of your gender, working out regularly can help keep you not only physically healthy, but mentally and emotionally healthy as well.
Working out is essential whether you are looking to tone down or bulk up. In addition to a routine workout, you will want to make sure your body is getting the necessary amount of nutrients it needs to perform and recover. Many fitness enthusiasts are turning to workout supplements, whey protein powders and muscle recovery supplements to help give them the extra amount of energy they need to help reach their fitness goals.
No matter what your age or gender, taking the time to give your body a good quality workout is essential to healthy living. For a more in-depth explanation of the workout habits of Americans, check out the survey from G6 Sports by visiting
http://www.g6sportsnutrition.com/inside-americas-workout-activity/
.
Working out is just one part of a healthy lifestyle. Make sure your body has the proper fuel it needs to perform and get results with help from the sports supplement line at G6 Sports. From priming your body to perform to recovering after, the workout supplements from G6 Sports are each manufactured to provide your body with the proper nutrients and minerals to help you see results. Discover more about what G6 Sports can do for you by visiting
www.g6sportsnutrition.com
.