Allegheny Attorneys At Law Release Their Top 10 Tips for Choosing the Right Lawyer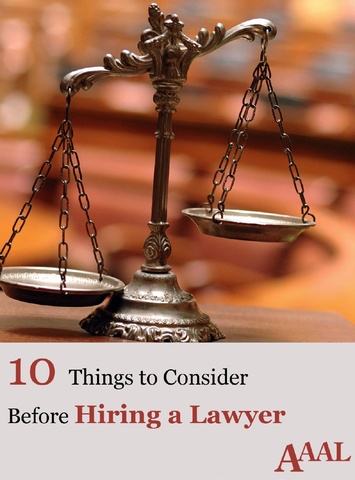 February 24, 2015 - Whether or not you hire the right lawyer can often make or break your legal case. The Pittsburgh attorneys and lawyers at Allegheny Attorneys hope to help guide your decision making with their new white paper, "10 Things to Consider Before Hiring a Lawyer."
The lawyer you choose will have a drastic impact on the result of your case. Hiring a lawyer that is not very experienced can lead to the mishandling of your case, but hiring a lawyer with too much experience can result in your case being lost in the shuffle. No matter what your case may be, make sure you are well informed before your hire an attorney in Pittsburgh.
When choosing what lawyer to work with, make sure they have both trial and settlement experience. Most lawyers will be well-versed in settlement experience, as this is the preferred method of resolving most cases. However, sometimes your case may go to court. Making sure your lawyer can adequately represent you and your interests in the courtroom will help improve your chances of winning your case.
Another thing you want to make sure of when choosing what Pittsburgh lawyer to work with is that your lawyer will be readily available when you need him or her. You will want to make sure that your lawyer has enough time to focus on your case. If the lawyer you hire seems to never be available when you call, or is late to reply to your emails, it may be a sign that they may be too busy to handle your case properly. Having a lawyer that is willing to communicate and work with you along the way will help to ensure that your rights are protected throughout your legal proceedings.
Finding a lawyer you can trust is a big part of your case. Asking around for recommendations or checking out testimonials or client reviews can help you better assess the credibility of lawyers and attorneys in Pittsburgh. More often than not, a good client review is a tell-tale sign of a trustworthy lawyer.
If you are still unsure about what lawyer will be the best solution for your legal needs, try to take advantage of any free consultations that Pittsburgh law firms may offer. These free legal consultations can help you gain a better sense of the attorney's experience and how they will handle your case. During your consultation, look for signs of the lawyer's personality. Making sure you and your lawyer have a nice chemistry together can help bring comfort to this stressful time.
Make sure you avoid some of the most common mistakes when hiring your next lawyer and check out the white paper from Allegheny Attorneys at Law by visiting
http://www.alleghenyattorneys.com/blog/white-paper-10-things-consider-hiring-lawyer/
.
No matter what your legal concerns may be, the experienced Pittsburgh attorneys of Allegheny Attorneys at Law will work hard to help you navigate through the legal process. To learn more about how Allegheny Attorneys at Law can help you, please visit
http://www.alleghenyattorneys.com/default.htm
.
Email Allegheny Attorneys at Law, P.C.