Clear Sky Releases Their Top Tips for Small Business Content Marketing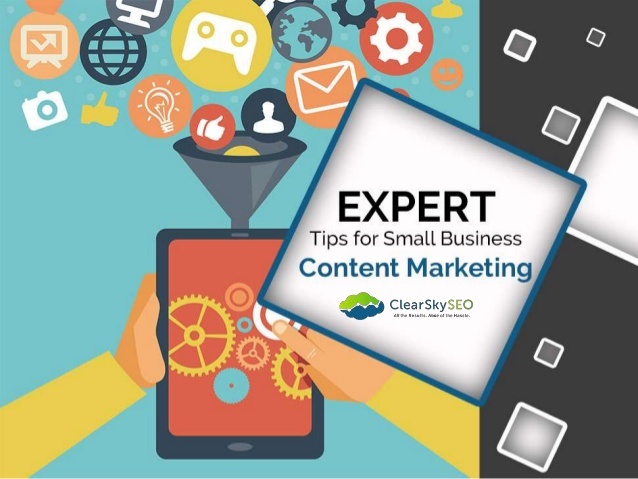 February 24, 2015 - If you're a small business owner, make sure you stay on top of your content marketing strategy by checking out the latest slideshow from the team at Clear Sky SEO.
Many business owners struggle staying up to date on the latest in SEO and content marketing trends. However, a successful SEO campaign is one of the fundamental keys to running a successful business. Not only will a successful SEO strategy help draw new customers to your brand, but it can also establish your company's presence as a leader in your industry.
The first step towards a successful content marketing campaign is to have your strategy in writing. Studies have shown that writing down your content marketing strategy will help you stay on track and be more accountable for posting timely content to your website. When coming up with ideas and topics for your content, make sure you do a fair amount of research on your industry and your customer's demand. Understanding what has already been published, and what your audience is looking for can help you create a more targeted campaign.
When you begin creating you content, you should make it a point to incorporate some type of visual element to your article. Images, infographics and videos are all great ways to help capture the attention of your readers and keep them engaged with your content. Furthermore, look to create your own news with your content by creating a survey. Once the survey is completed, you can provide your readers with tangible statistics and insights into some upcoming trends in your industry.
Coming up with new topics on a regular basis is not an easy task, so always be sure to keep an open eye for any opportunity to repurpose the content you have already created. Giving a quick update to an outdated piece of content can help speed up your turnaround and help you stay on schedule with your blog posts.
Posting regular, high-quality content to your site is crucial if you want your business to be successful on the web. For more content marketing tips to help your business stay ahead, check out the slideshow from
http://www.clearskyseo.com/slideshow-expert-tips-small-business-content-marketing/
.
If you're looking for a way to keep your business on top of Google search engine results, contact the team at Clear Sky SEO. Clear Sky has helped all types of businesses create valuable content for their brand, helping establish their online authority and attract new customers to their website. For more information on how Clear Sky SEO can help your business, visit
www.clearskyseo.com
.