Philip Pelusi Learns that the Majority of Women Prefer Professional Hair Salons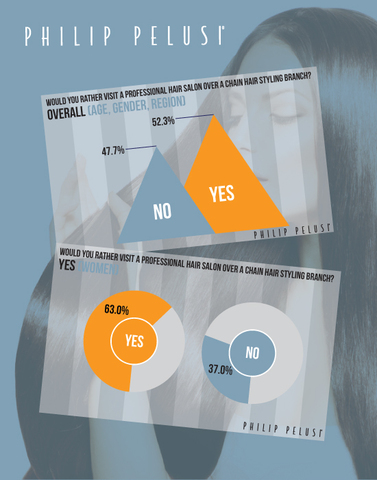 February 25, 2015 - According to the results of a recent survey conducted by the professional salon stylists of Philip Pelusi, more women are recognizing the benefits of getting their hair cut and styled at a professional hair salon. When asked where they preferred to take care of all their haircare needs, over 63% of women replied that they preferred to visit a professional hair salon rather than a franchised salon chain.
Women were not alone in their preferences either. When adding male responses into the mix, the hair stylists at Philip Pelusi learned that slightly over 52% of the country overall would rather visit a professional hair salon over a franchised salon chain.
For many of us, the difference is clear from the moment we walk through the door. While franchised chains typically offer a bland, cookie-cutter experience, professional hair salons make their customers feel welcome and provide them with the opportunity to be pampered like nowhere else.
While a professional hair salon may be a bit pricier than their franchised chain counterparts, many people find that they get much more than just another haircut from the experience. At a franchised chain hair styling branch, profits are typically the end goal. They make it a priority to seat as many customers in a day as possible, maximizing their profits while delivering quick, simple and often rushed haircuts.
When visiting a professional hair salon, the experience is much different. Salon stylists actually take the time to understand your personal wants and your hair needs. Rather than just giving you any old cut, a professionally trained hair stylist will offer advice on styles and cuts that will work best with your facial structure, highlighting your strong points while hiding some of your flaws.
Furthermore, many professional hair salons come equipped with their own brand of salon quality hair care products that they will use to treat and style your hair. Typically, these salon styling products and hair care treatment products utilize the best raw ingredients available to help enhance how your hair looks and feels. Most important of all, a professionally trained hair stylist can help recommend product systems that are customized to meet your specific hair care and styling needs.
Making the extra investment for professional salon quality hair care is well worth the cost. Discover more about why so many people are electing to visit a professional hair salon for all their hair care needs by checking out Philip Pelusi's survey at
http://www.philippelusi.com/blog/benefits_professional_hair_salon/
.
For 50 years, Philip Pelusi salons have been providing their superior quality hair care products and styling services to the Pittsburgh area. What started out as a small, single studio hair salon has grown into one of the biggest professional hair salons and salon quality product designers in the area! Learn more about their salon services, products and more by visiting
http://www.philippelusi.com/
or stopping by one of their 12 locations today!
Email Philip Pelusi Salons