Make Sure you Have an Emergency Sanitation Plan in Place with Help from Mr. John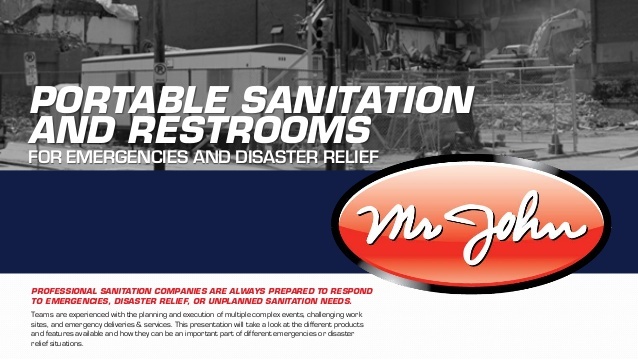 February 25, 2015 - While no one ever wants a disaster or emergency situation to arise, it is crucial that we remain prepared. Make sure you have an emergency sanitation plan in place by checking out the latest slideshow from the portable sanitation experts at Mr. John.
Making sure you have a plan to handle all types of emergencies can help ensure a quick and effective response to any situation. Work closely with a local portable sanitation supplier, who can help you be prepared to execute sanitary services in all types of situations.
When creating your emergency plan, you will want to include portable restrooms and toilet trailers. Standard and flushing portable toilets are always kept on standby and ready for immediate delivery to help with emergency situations. Furthermore, restroom trailers can be made available at a moment's notice to accommodate larger situations.
Toilet and restroom trailer rentals can be customized to meet a variety of situational needs. Both those affected by the emergency and the emergency response personnel will be in need of a temporary sanitary solution, so make sure you do your best to provide convenient access to whatever toilet rentals or trailers you choose. Your local portable sanitation supplier can help you determine what units or trailers will work best for your situation.
In addition to toilets and restrooms, you may want to consider what fresh water supplies a portable sanitation company can provide for you. Many of these suppliers will have portable hand wash stations and aqua flush systems that bring running water to the site of the emergency. Shower trailers can be brought in to provide emergency workers and those affected by the emergency with hot and cold running water, flushing toilets, urinals and more in one convenient location.
Beyond sanitation, many emergency relief workers seek out office trailers and storage containers that can help improve the planning and coordination efforts. Having a mobile office trailer on-site allows for quick on-site planning and execution, while storage containers provide a safe area to store equipment and personal belongings. Both office trailers and storage containers can be ordered in a variety of sizes to meet most site needs, and can be set up quickly to help speed up the execution of your emergency relief efforts.
Don't wait to make sure you have an emergency plan in place, and check out the slideshow from Mr. John to get you started by visiting
http://mrjohnpit.com/slideshow-portable-sanitation-restrooms-emergencies-disaster-relief/
.
Since 1964, Mr. John has provided portable sanitation services in Pittsburgh, Western Pennsylvania and its surrounding areas. Now the largest supplier of portable sanitation and mobile containers in the area, Mr. John proudly assists hundreds of clients each year on a wide variety of events. Learn more about how the Mr. John team can help you by visiting
mrjohnpit.com
.