WOWHire! Receives $5 Million Valuation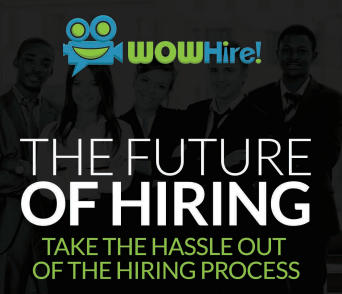 February 26, 2015 - WOWHire!, a mobile application that seeks to revolutionize the way employers connect with potential hires, has received an initial valuation of $5 million. The tech startup company, founded by Samuel K. Boyer, Phil Laboon and Michael Quinn, has already gained the attention of some of Pennsylvania's top colleges, students, and employers.
For far too long, the traditional paper resume has remained stagnant in its approach. While providing employers with specific information regarding a potential hire's accomplishments and skill sets, the paper resume proves unsuccessful as a means to assess a candidate's personality and fit with a company, a problem that is continually lamented by recruiters and hiring professionals across many types of industries.
Furthermore, recent college graduates and newcomers to the job market struggle with how to differentiate themselves from their peers. With most colleges and degree programs now requiring internships and apprenticeships, many of these entry-level candidates must rely on new and different ways to demonstrate their value and build their personal brand.
That is where WOWHire! comes in. As the first major disruptor in the hiring process, WOWHire! looks to revolutionize the hiring process by leveraging video and smart phone technology to connect employers and their future employees with speed and efficiency.
Students that sign up for the app have a unique chance to control an employer's first impression by creating a 60-second "WOW" Video. "WOWHire! provides candidates with the opportunity to sell themselves before they get into the interview," says Founder and CEO Samuel Boyer, "it's the perfect tool for the selfie generation to help them get out there and get noticed."
From the perspective of hiring managers, the major draw is the time saving aspect WOWHire! provides. Employers that sign up for the app are allowed access to a rapidly expanding database of eager employees looking to make a name for themselves within their industries.
Rather than shuffling through countless paper resumes, WOWHire! allows employers to put the hiring process in the palm of their hands. The app's interface gives employers the option to filter through thousands of potential hires, watching each candidate's 60-second 'WOW' Video and then saving each of their selected 'favorites' directly to their account for further follow-up.
Still in its earliest stages of development, WOWHire! has received an outstanding amount of feedback and support. The WOWHire! team has established working relationships with several top schools in the area including Robert Morris University, Point Park University, Indiana University of Pennsylvania, Pittsburgh Technical Institute, and Penn State, to name a few.
As WOWHire! continues to grow, the list of interested companies and national brands expands everyday. Xerox and Huth Technologies are two of the first to use the app, while a variety of other companies in hospitality, sales, marketing, and finance industries have indicated a high level of interest in the app's ability to quickly identify potential hires, especially with the demand to fill high quantities of entry-level positions.
If you're looking to learn more about how WOWHire! is revolutionizing the hiring process, or looking to sign up for early beta access as either a student or an employer, please visit
www.wowhire.com
.