Bob Moore Construction Reaches Major Milestone For Legacy VI and VII Office Buildings Project in Plano, Texas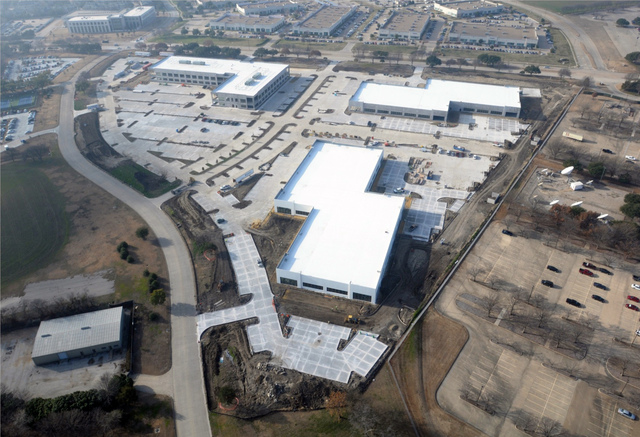 Northwest Plano, Texas is teaming with exciting new business activity. Commercial space along Tennyson Parkway is prime real estate for businesses who want to tap into the area's success.
Over the past several years Lincoln Property Company has played an important role in northwest Plano's growth by building and managing several buildings in the area. In 2014 they continued their strategic growth plan in Plano when they hired
Bob Moore Construction
as the general contractor for Legacy VI and VII, a new office building complex in this area.
In February 2015, Bob Moore Construction reached a major milestone of construction when they completed structural work and began interior finish-out for Legacy VI and VII. When finished, Legacy VI and VII will deliver 245,508 of new high end, speculative office space in a 24-acre, three-building campus.
Legacy VI includes two buildings; each building is 60,428 SF. The buildings include aluminum awnings and a dramatic white exterior paint scheme. Luxurious landscaping will surround the buildings, and the walkways to the entrances will feature a textured salt finish with curved radius patterns.
Legacy VII is a 124,652 SF two-story office building. Like the two other buildings in Legacy VI, the exterior of Legacy VII will feature aluminum awnings, a white paint finish and textured salt walkways. The building's corners and main entrances will also include large spandrel glass curtainwall windows. The lobby will be finished with glass, steel, wood and tile to create a dramatic, modern design to the building's common areas. A grand stairway made with steel steps protruding from a tiled wall will lead visitors to the second floor balcony which overlooks the front entrance.
All three buildings were constructed with tilt-up construction
. The campus also features 1,463 parking spaces spread over 582,522 SF of new paving.
"This is a terrific project for Lincoln Property Company, the city of Plano and us," said Kyle Whitesell, Executive Vice President for Bob Moore Construction. "The artistic, modern design will make Legacy VI and VII a real showcase property for Lincoln, and these new buildings will expand the availability of upscale office space for this growing section of Plano. We're excited to have the opportunity to work again with Lincoln Property Company on this dramatic office project, and to be part of the northwest Plano's growth."
About Bob Moore Construction
A recipient of the QUOIN / AGC General Contractor of the Year Award, the TEXO / AGC Summit Award for Construction Excellence and the Texas Building Branch-AGC Outstanding Construction Award, Bob Moore Construction has been one of the most respected commercial construction companies in Texas since 1946. An industry leader in tilt-up construction, the company was the first general contractor in the United States to be formally certified as a TCA Certified Company by the Tilt-up Concrete Association (TCA). Bob Moore Construction was also one of the first general contractors in North Texas to be accepted into the OSHA Local Partnership program in recognition of its superior safety program. The company's portfolio includes a wide range of commercial buildings, from warehouses and distribution centers to office buildings and retail stores. Whether it is providing general contractor, design / build or construction management services, Bob Moore Construction's goal remains the same: to deliver quality construction projects on time and in budget. Bob Moore Construction is a member of TEXO / Associated General Contractors of America, American Concrete Institute and a sustaining member of the TCA.
Email Bob Moore Construction